Topeka — Like many co-workers on the picket line, Steve Huston wasn't happy Thursday about going on strike at the Goodyear Tire and Rubber Co. plant, but he felt there was no other option.
"Nobody is glad to be on strike, but we're trying to hold on to what we have and they are trying to take more benefits and wages from us," said Huston, of Topeka, who has worked at the plant for 36 years. "We're trying to keep benefits for the retirees, too."
Huston was among 1,300 to 1,400 members of United Steelworkers Local 307 striking, joining workers at 15 other Goodyear plants in nine other states and Canada after talks broke down between the world's third-largest tire maker and the union, which represents some 15,000 workers at all the plants.
About 20 workers formed a single-file picket line outside the plant, many holding signs declaring they were on strike for "unfair labor practices." A trucker drove to the plant entrance, saw the picketers, turned around and left as several strikers cheered.
Workers said they will maintain the picket line around the clock outside the Topeka plant, which makes tires - some as big as 12 feet tall - for commercial vehicles such as dump trucks and tractor-trailers and for Humvee military vehicles.
The company contends the offer rejected by the union protects jobs and secures pensions while mirroring agreements other companies have.
But Huston said workers are concerned about proposals that would have them paying more for health insurance, losing a cost-of-living adjustment and accepting a pay plan that could result in some workers earning less.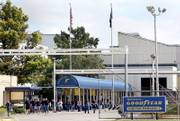 "When you reduce our hourly wage, it hits us pretty hard," he said. "We just want to hang on to what we have and survive."
The strike was no surprise for the workers, many sporting blue T-shirts with a slogan on the back: "Unity today. Protection for retirees. Security for the future."
The old contract expired July 22 and both sides agreed to an indefinite day-to-day extension. On Monday, the union served notice it would terminate the contract at midday Thursday if no agreement was reached. As the noon hour approached, union stewards in the various departments told workers to pack up their tools and clock out.
Bob Dolezilek, who has been at the plant 39 years, said he shut down his tire-making machine and left.
Dolezilek, of Holton, said he has some savings stashed away and his wife works. But like other strikers, he will pinch pennies and look for part-time work. Still, he has no regrets with walking out.
"This time, they asked for the moon," he said.
The question is how long the strike will last. In 1976, workers walked out for four months, and the most recent strike in 1997 lasted two weeks.
Dave Gutierrez, of Topeka, has been at the plant for five years. He said it could be a long strike "if Goodyear keeps going the way they are."
"I've got some put aside but I may look for part-time work to tide me over, maybe I'll go back to construction," he said.
Lloyd Brown, of Topeka, a six-year veteran at the plant, said he's striking for more than any personal gain - it's because of other workers who went on strike in the past.
"They sacrificed in past strikes to get us what we've got. I'm an old-fashioned guy. If somebody does you a favor, you do them a favor," he said.
Copyright 2017 The Associated Press. All rights reserved. This material may not be published, broadcast, rewritten or redistributed. We strive to uphold our values for every story published.