A friendly wave soon may not get you very far.
Since inception of the city's public transit system in 2000, riders of the T have been able to simply throw a hand in the air to flag down a bus anywhere along one of the system's eight routes.
City transit leaders, though, want to put an end to that practice and instead require all riders to go to a designated bus stop.
"We realize it may be inconvenient for some people, especially those people who live right on the route and are used to being able to just walk outside their door," said Cliff Galante, the city's public transit administrator. "But the goal of all this to keep the buses on schedule. That is very important."
Galante and his staff have evaluated the routes and found about 95 locations to add bus stops, in addition to the roughly 150 existing stops. Galante said the goal is to make sure there's a bus stop - not necessarily a shelter, though - at least every quarter mile. In heavy pedestrian areas, such as downtown, there likely will be a bus stop at every other block.
The transit department is taking public comment on the proposed policy and new bus stop locations. Galante said any change in the "wave-down" policy wouldn't take effect until after the new year.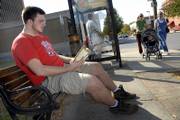 Galante said eliminating the wave-down policy was becoming necessary as ridership on the bus system grows. The T is expected to provide about 500,000 rides this year. Ridership growth on the system is growing by about 10 percent to 15 percent per year.
Reaction to the idea was mixed among bus riders Thursday.
"I don't think it is a good idea," said Jerimiah Lyles, a Lawrence resident who rides the bus about four times per week. "They ought to be making it as convenient as they can to ride the bus. A lot of people are pressed for time. If you have to walk farther to catch the bus, it might make you late and you might actually miss the bus."
Others, though, said they could understand that the bus system has difficulties maintaining its schedules if buses have to stop multiple times in a block.
"I think you should have to go to a bus stop," said Katherine Anderson, a Lawrence resident who frequently rides the bus. "That seems to be the way it works everywhere else. It is not a limousine service that they're running."
Some city commissioners, though, said they would like to find a happy medium that would not make the change too burdensome on T riders.
Commissioner Boog Highberger said part of the T's purpose was to give people with disabilities an option other than riding the city's paratransit bus service, which provides door-to-door service for people with disabilities. Highberger said he'd like to look for a way to allow people with mobility problems the opportunity to continue waving down buses.
"I do have some concerns, but I also understand the necessity of being on time," Highberger said.
E-mail Public Transit Administrator Cliff Galante to comment on the proposed changes
Copyright 2018 The Lawrence Journal-World. All rights reserved. This material may not be published, broadcast, rewritten or redistributed. We strive to uphold our values for every story published.