Next month, the maze of Medicare Part D will get even more complicated, with a dozen more prescription drug plans and more expensive premiums and deductibles.
Enrollees also will have less time to choose from more plans - six weeks this year beginning Nov. 15, compared with six months last year.
"Unfortunately, it doesn't seem to have gotten any easier for folks," said Annette Thornburgh, director of development and communications for the Jayhawk Area Agency on Aging.
The Social Security Administration is reviewing all people who receive low-income prescription drug assistance in the state to see whether their incomes and eligibility have changed.
Changes loom for many enrollees who remain eligible because deductibles and premiums will become more expensive.
Several of the more popular plans, including Humana and Blue Cross, have jumped in price. And costs have increased most in plans that offer the broadest coverage and options.
For example, people using the Humana PDP Complete plan - which requires no deductible - paid $54.20 a month this year. As of Jan. 1, they'll pay $69.50 monthly for the same plan.
"I just wasn't expecting it to go up like that after the first year," said Janell Collins, coordinator for the Jayhawk Area Agency on Aging.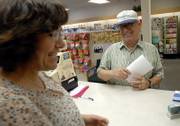 'Coverage gap' grows
Federal officials acknowledged the cost increases, but said that with them also come improvements in coverage.
More plans will cover more drugs, said Julie Brookhart, a spokeswoman for the federal Centers for Medicare and Medicaid Services in Kansas City, Mo.
The "coverage gap" will also be addressed. Before, when enrollees used more than $2,250 worth of medication they then paid full price for any additional prescriptions until they spent $5,100. Then they once again received assistance. The money spent between the first and second thresholds is termed the "coverage gap."
Next year, the first spending threshold will be $2,400 and the second $5,451, creating a wider coverage gap.
Because of those changes, the maximum out-of-pocket expenses for enrollees will increase from $3,600 to $3,850 for 2007.
For those willing to pay a higher premium, Brookhart said, there are some plans that virtually eliminate the gap, so that enrollees never pay full price no matter the amount of drugs they need.
The increases for Medicare Part D beneficiaries will come at a slower pace than general health care costs, officials said, characterizing the increases as "modest" compared with other medical cost trends.
Part D changes
¢ Income changes may affect the eligibility of those who qualify for low-income assistance to cover the "coverage gap." Letters will be sent notifying people of changes. ¢ There are more plans from more companies: 53 plans from 22 companies for 2007, compared with 41 plans from 15 companies this year. ¢ There is less time to apply for a new plan: six weeks beginning Nov. 15. ¢ Some premiums will be more expensive, but they may offer better gap coverage or more brands of medicine. ¢ The maximum annual deductible has increased, from $250 this year to $265 in 2007. ¢ The www.medicare.gov Web site has been streamlined to help enrollees evaluate plans and options. ¢ For help with a plan, call the Senior Heath Insurance Counseling for Kansas program at (800) 860-5360.
Online assistance
As of June, 3,928 of the 9,787 people eligible in Douglas County had signed up for Medicare Part D. Officials said it still was unclear how many of those receive low-income assistance or how many may no longer qualify after the Social Security Administration review.
Some of the 9,787 eligible people receive drug assistance through Medicaid or other programs instead of the Medicare.
The Medicare Web site - www.medicare.gov - has been redesigned so beneficiaries or those assisting them can better manage their plans, said Suzi Lenker, outreach coordinator for Senior Health Insurance Counseling of Kansas, the state's Medicare information program.
The improved Web site should be up by mid-October, leaving time to preview plans before enrollment begins Nov. 15, Lenker said.
Also, the maximum deductible for plans that have them has increased from $250 to $265 per year.
Those whose eligibility may have changed should receive notification soon, she said. Appeals are possible, Lenker said, so that the notified person likely still would qualify for some level of coverage.
Now also is the time for those who didn't enroll in a plan last year to come on board, Lenker said.
Saved money
Lawrence resident Gary Watson said he had some trouble getting enrolled in the Medicare program last year, but it ultimately lowered the cost of his expensive diabetes medicine.
Instead of paying hundreds for premium drugs, he only had to shell out $30 in co-payments each time his prescription was filled, he said.
"That was a tremendous improvement," he said.
Watson plans to stick with his current plan.
"I'd be foolish to change," he said.
Medicare Part D
More about Medicare Part D
Copyright 2018 The Lawrence Journal-World. All rights reserved. This material may not be published, broadcast, rewritten or redistributed. We strive to uphold our values for every story published.