Topeka — Democrat Paul Morrison's campaign wouldn't say Thursday whether he'd abandon the pursuit of patient records from two abortion clinics if he's elected attorney general.
Morrison, the Johnson County district attorney, has criticized Republican incumbent Phill Kline for a year over Kline's efforts to glean information from the records of 90 women and girls. This week, Morrison began airing a television ad suggesting Kline wanted to put personal medical data "in the government's hands."
The Democrat's comments left some Kansans with the impression that he'd drop the pursuit if he's elected, and news stories repeatedly have described it as his position. Kline has said the same thing in their debates, without being contradicted.
But on Wednesday, Morrison told a reporter that he had never made such a statement. He wasn't available for an interview Thursday - because of his commitments as a prosecutor, his campaign said - and spokesman Mark Simpson offered no definitive answer as to what Morrison would do.
"He's not going to speculate on that right now," Simpson said. "The fact is there's a lot of work to be done to get that office back in order."
Questions about Morrison's position arose the same day his campaign accused Kline of trying to mislead voters about whether the Kansas Bureau of Investigation, under the attorney general's direction, had cleared a backlog in the handling of DNA samples.
But Kline's pursuit of the abortion records has brought him national attention. He has said he started investigating sex crimes against children and potentially illegal late-term abortions three years ago.
Online chat
Atty. Gen. Phill Kline, a Republican running for re-election, will answer readers' questions during an online chat at 2 p.m. Monday at www.ljworld.com
Morrison, who supports abortion rights, accuses Kline, a strong abortion opponent, of conducting a fishing expedition. The Democrat has said the state should not seek medical records for such a reason.
'Starting to backpedal'
Kline was visibly surprised when told Morrison had denied promising to drop the pursuit of the records.
"He has stated that he would end this foray - I think is what he called it - and dedicate the resources elsewhere," Kline said.
The anti-abortion group Operation Rescue accused Morrison of trying to "bail himself out of a jam" politically by "misrepresenting" earlier statements.
And Kline spokeswoman Sherriene Jones said, "Now he's starting to backpedal."
The records at issue are from clinics operated in Wichita by Dr. George Tiller and in Overland Park by Planned Parenthood of Kansas and Mid-Missouri. A Shawnee County judge subpoenaed the documents in September 2004, but the clinics resisted. The case went to the Kansas Supreme Court and back to district court, where it remains.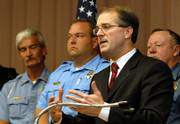 "I think what Paul's recognizing is that - you know, I don't do polls; he does, quite a few - that Kansans don't want an attorney general who's for sale and that the law needs to be enforced, and when a judge finds evidence of a crime, it's the AG's job to take a look at that," Kline said.
Previous statements
During a Sept. 5 news conference, a reporter asked Morrison whether Kline's inquisition - the legal term for a court-supervised investigation - would "disappear" if Morrison were elected.
Morrison replied that as district attorney, he had initiated inquisitions regularly, but never for "fishing expeditions, so that we can thumb through medical records."
He added, "We're not going to use it for that - absolutely not."
Then, during a debate four days later in Lawrence, he said Kline's efforts were "abuse of authority."
During a Sept. 13 interview with The Associated Press, Morrison said there are easier ways than seeking private medical records to investigate crime.
"We file child rape charges on a regular basis in the Johnson County DA's office," he said. "We have never had to subpoena somebody's private medical records to do that."
Based on such comments and news reports, Kline has criticized Morrison for planning to drop the pursuit of the records if elected.
Morrison told The Topeka Capital-Journal that Kline's statement was "absolutely not accurate."
And on Thursday, Simpson didn't clarify Morrison's position, despite acknowledging, "He's been consistently critical of Phill Kline's serious invasion of privacy."
"He can't speculate on all the work he will have to do to clean up the mess Phill Kline has made of the attorney general's office," Simpson said, adding that as a veteran prosecutor, Morrison "knows how do his job the right way."
Kline and the KBI
Also Thursday, Morrison's campaign released what it called a "video news release" about the KBI's handling of DNA samples.
In the video, Kline is shown saying that the backlog of DNA samples is "gone."
But the Morrison campaign obtained a letter from the KBI saying that as of July 1, more than 16,000 samples remained to be processed.
The ad ends with a printed statement: "He chooses to deceive. And it matters."
Jones said Kline's comments are a reference to the backlog the KBI had when Kline took office in January 2003, some 30,000 samples. That backlog was eliminated, she said, but new samples kept coming as law enforcement officials investigated cases.
"The attorney general has been fighting for KBI lab funding since he's been in office," she said.
But Simpson said Kline's words speak for themselves.
"We thought that Kline's own words show that he hasn't been telling the truth, better than we could ever say it, so we put it in a video," Simpson said.
Copyright 2018 The Associated Press. All rights reserved. This material may not be published, broadcast, rewritten or redistributed. We strive to uphold our values for every story published.