Tempe, Ariz. — The starting call has come earlier than expected for Matt Leinart, who went through his first practice as an NFL first-string quarterback Wednesday.
Leinart capped the session with a little extra work on the field with Edgerrin James, then pronounced himself confident for his first start for Arizona on Sunday against the Kansas City Chiefs, although he acknowledged, "They're probably licking their chops with a rookie quarterback coming in."
With costly mistakes plaguing Kurt Warner and the sputtering offense, coach Dennis Green decided to switch to Leinart, who was supposed to spend the entire season learning as a backup.
"This was not our intention. It's not what we wanted," Green said, "but we're 1-3 and just so many turnovers have brought it on."
Leinart has impressed coaches and teammates since he came to the Cardinals after a surprising drop to the No. 10 pick in the draft.
"I think you've got to understand who Matt Leinart is," Green said. "As far as college football is concerned, I don't know if there's a quarterback in the history of the game who has had as much success on that level."
USC was 37-2 with Leinart at quarterback, earning two national championships and winning a Heisman Trophy for him in 2004. But that was not the NFL, and it wasn't the downtrodden Cardinals, who are off to a 1-3 start for the fourth year in a row and have one winning season since 1984.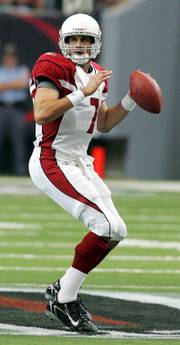 "What I want to try to do is not cram everything in and try to do too much," he said. "I'm comfortable with what I'm doing. Really, football is obviously studying your opponent and knowing what you're going to do, but really just playing, just going out there thinking and playing football."
He will operate behind a suspect offensive line that drew a public berating by Green this week. On his weekly radio show, the coach said it was time for the line to "stop whining" and work harder.
As any new quarterback would be expected to do, Leinart defended the line.
"I think they're going to be fine," Leinart said. "I think we just need leadership out there and hopefully I can come in there and just kind of bring a spark. Those guys have talent. We've struggled as an offense, and that's on everybody. That's not just on those guys. I know that they're going to be fine. I have faith in them, and I think they have faith in me.
"And I think we're going to see that this Sunday."
Warner, who has lost starting jobs before to Marc Bulger in St. Louis and Eli Manning with the New York Giants, pledged his support and promised to help Leinart, but said the transition to the pro game is bound to take a while.
"To have a full grasp is going to take a long period of time, and I'm sure Matt's not even close to that yet," Warner said. "How quickly he'll be there? I don't think it will be at least until sometime next year where he feels completely comfortable with everything, relaxed and just can play football."
Copyright 2018 The Associated Press. All rights reserved. This material may not be published, broadcast, rewritten or redistributed. We strive to uphold our values for every story published.