Dallas — Darrell Royal is still quick with a quip, and few things get him rolling more than the Texas-Oklahoma game.
Now 82, Royal has perhaps a unique perspective of the rivalry. A star player at Oklahoma in the 1940s, he coached at Texas for 20 years, making such a mark the campus stadium now carries his name.
Even though he left the sidelines long ago, Royal is as eager as ever for the 101st edition of this border-state grudge match Saturday.
"I can't be any more worked up for a game I did the first year," he said, "or the last year. You're worked up every year."
Other rivalries compare or maybe even exceed this one in stature. But this game has 'em all whupped when you factor in the atmosphere.
Played in Dallas every year since 1929, and in the Cotton Bowl since it opened in '32, the game embodies the concept of a neutral site. It's held about a three-hour drive from each campus with the fandom split 50-50, right at midfield.
Crimson-clad Sooners fans ring the south end, with their mascot, the horse-drawn Sooner Schooner wagon, patrolling the area. Longhorns faithful give the north end a burnt orange tint with their mascot, a real Texas longhorn named Bevo, keeping an eye on things. The result is a burst of color that still gives goosebumps to anyone who has ever walked out the tunnel and soaked it in.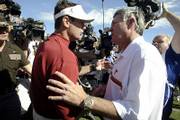 Outside the building, the biggest state fair in the country is going full throttle. The smell of corn dogs, turkey legs and even the nearby livestock arena waft over the crowd, which often includes a bird's-eye view from riders on the Texas-sized Ferris wheel, albeit for only a few seconds at a time.
Afterward, the carnival midway and its many beer stations provide the perfect place for winners to celebrate and losers to drown their sorrows, providing folks aren't still hung over from parties around town the night before. That scene is much tamer than it used to be, but Dallas police usually still wind up making more arrests than on a typical Friday night.
"It's one of the unique classics," former longtime Oklahoma coach Barry Switzer said. "One of the five best games in college football history."
Oh, yeah, one more thing. The football is darn good, too.
The Longhorns or Sooners have been ranked coming into their early October matchup all but five times since 1945.
Copyright 2018 The Associated Press. All rights reserved. This material may not be published, broadcast, rewritten or redistributed. We strive to uphold our values for every story published.