For the third consecutive season, the Chase for the Nextel Cup includes a restrictor-plate race at Talladega (Ala.) Superspeedway.
The close, side-by-side racing in tight packs on the high banks of the 2.66-mile speedway has helped the race earn a deserved reputation as a "wild card" in the battle for the championship.
This season, the wild card takes on an even bigger aura of uncertainty.
Shortly after the season's first race at Talladega in early May, the track started a repaving job of the entire racing surface, pit road, access roads and upgrades to the infield garage areas. It's the first repaving of the surface in 26 years.
Aside from new asphalt, all pit boxes were widened by 2 feet. Pit road also was widened by 10 feet.
Most of the drivers in the Chase asked about the effect of the repaving did not seem to think it would be an issue in Sunday's UAW-Ford 400. But there may be an unintended one.
The new surface is particularly smooth, and that increased "comfort ability" could prompt some drivers - in the Chase or not - to make some moves that they otherwise would give second thoughts.
"We run three- or four-wide now without a whole lot of problems. We may see even more side-by-side or deeper racing. I hope we don't see that, but I'm sure we will," said series points leader Jeff Burton.
"It's going to be the same Talladega as always. The more bunched up we are, the more opportunity for big car wrecks. Anytime you go to Talladega, you've got to go there knowing there is a good chance there is going to be a big multi-car wreck.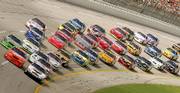 "You just hope you are not going to be in it."
Four-time champion Jeff Gordon said he understands the new track surface to be "beautiful, smooth as glass."
Although he doesn't expect any problems, he said he will keep a close eye on those around him.
"If it looks like guys are being more aggressive and doing more than normal and trying much harder and doing more to get up front and stay up front, I am going to play it like I see it," he said.
"I might say, 'OK, these guys are crazy and I need to get out of this situation.' I've had to do that before."
Several drivers not in the Chase participated in a Goodyear tire test on the new surface in the past month and offered a similar appraisal.
"It is probably going to be about five-wide and nine-deep. I have driven on a lot of new surfaces and this is definitely one of the best ones I have driven on as far as the quality of how smooth it is," said driver Brian Vickers, one of the participants.
Offered Ryan Newman: "You are going to want to bring a fast race car here because it is going to be totally opposite of Daytona now, as handling is going to be next to nothing, if nothing.
"It is definitely a big change and improvement as far as smoothness goes, and hopefully we can put on just as good a race. That's the bottom line."
There will be at least two opportunities for Chase drivers to get an idea how the surface will factor in prior to Sunday's race.
The Automobile Club of America series has a race Friday at the track and the NASCAR Truck Series' inaugural race at the facility is Saturday.
"The speeds are the same and the tire wear was minimal (in the test)," Kevin Harvick said. "From the driver's standpoint, it is probably going to be easier to drive around and not worry about the bumps.
"We will see what happens when we get down there."
Copyright 2018 The Lawrence Journal-World. All rights reserved. This material may not be published, broadcast, rewritten or redistributed. We strive to uphold our values for every story published.