Baghdad, Iraq — Judges decided Tuesday to postpone their verdict in Saddam Hussein's trial, a long-awaited decision that once held out the hope of healing Iraq's wounds but now threatens to spark even more sectarian violence.
The verdict had been expected Oct. 16 but was delayed until at least the end of the month while judges take extra time to review the evidence and make sure their case is airtight.
But no matter how well crafted, the verdict could worsen violence that already is claiming dozens of lives daily. A death sentence for the former leader could enrage his Sunni Muslim supporters, while anything less is sure to infuriate Shiites who were oppressed under Saddam's regime.
That dilemma is a far cry from the hopes of many U.S. and Iraqi officials when the war crimes trial began nearly a year ago. They touted the tribunal as a way to help heal Iraq's divisions by exposing atrocities during Saddam's regime, establishing justice and opening the door for reconciliation.
In the past year, however, Shiite-Sunni divisions have grown, with thousands killed by Sunni insurgents and death squads from both Islamic sects.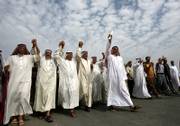 After nine months of often stormy court sessions, many Sunnis - who are a minority in Iraq but were dominant under Saddam - still see the tribunal as a show trial by the new Shiite leadership to take revenge on the ousted president.
"There is sympathy with Saddam, especially because what we see now makes many nostalgic for him," said Khalaf al-Alayan, a Sunni parliament member, referring to the violence in Iraq since Saddam's ouster by U.S.-led forces in April 2003. "So there could be a reaction if there is a death sentence."
Meanwhile, Shiites have made clear they will only accept execution for the leader whose regime persecuted their majority community and the Kurds.
"Anything less than a death sentence will be a neglect of justice," said Hassan al-Suneid, a Shiite lawmaker. "I think it could be a disaster."
Saddam and seven co-defendants face possible execution by hanging if found guilty on charges of crimes against humanity over a crackdown on Shiites in the town of Dujail launched in 1982. A five-judge panel will decide the ruling by a majority vote.
The Dujail trial, which began Oct. 19, was the first for Saddam. A second trial of the former Iraqi leader and six other co-defendants began Aug. 21 on genocide charges for their alleged roles in a 1987-1988 crackdown against Kurdish rebels.
The genocide trial was adjourned last week until Monday after a stormy session during which the chief judge expelled all the defendants amid a boycott of the trial by the defense lawyers.
Copyright 2018 The Associated Press. All rights reserved. This material may not be published, broadcast, rewritten or redistributed. We strive to uphold our values for every story published.