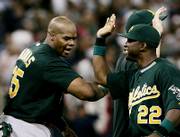 Minneapolis — Barry Zito, Frank Thomas and the Oakland Athletics proved it was possible to beat Johan Santana - even in the Metrodome.
Zito kept Minnesota off balance with his big curveball, Thomas hit two huge home runs, and the Athletics defeated the Twins and their ace, 3-2, Tuesday in the opener of their first-round AL playoff series.
"First blood, I think, means a lot - especially when you're playing on the road," Zito said.
Zito quieted the Twins and their fans at the noisy, quirky ballpark for eight innings. He gave up four hits, three walks and one run and struck out one.
Oakland emerged in excellent shape after beating Santana, who was 16-0 over a span of 23 regular-season starts in which the Twins won every time since Aug. 1, 2005.
Santana led the league in earned-run average, strikeouts and innings and tied for the AL high in wins.
"Santana's probably going to win another Cy Young," A's first baseman Nick Swisher said. "For us to overcome the noise and all that stuff and win against him is something special."
Minnesota rookie Boof Bonser will start against Esteban Loaiza in Game 2 this afternoon. A season-ending elbow injury to All-Star Francisco Liriano and right-hander Brad Radke's shaky shoulder have left the rotation looking a little thin.
Thomas went 3-for-4, homering in the ninth off Jesse Crain. The 38-year-old became the oldest player to have a multihomer game in postseason history, according to the Elias Sports Bureau.
Copyright 2017 The Associated Press. All rights reserved. This material may not be published, broadcast, rewritten or redistributed. We strive to uphold our values for every story published.