San Diego — With one swing of Albert Pujols' bat, a St. Louis Cardinals lineup that looked so sickly in September suddenly got a lot better under the California sun.
San Diego Padres ace Jake Peavy tempted Pujols with one pitch too many, and the slugger, who has a shot at a second straight NL MVP award, responded with a two-run homer that launched the Cardinals to a 5-1 victory in the opening game of the division series Tuesday.
Everything went well for the Cardinals, from the second chance Pujols got when catcher Mike Piazza couldn't catch his foul ball to having ace Chris Carpenter fresh for the playoff opener, the result of manager Tony La Russa's gamble in keeping him out of Sunday's regular-season finale.
Even though it enjoyed home-field advantage for the first time in the opening round, San Diego still can't beat the Cardinals in October. The three-time NL Central champion Cardinals have won seven straight postseason games against the Padres, including division series sweeps last year and in 1996.
Tuesday's victory started with Pujols' impressive drive in the fourth inning that broke a scoreless tie. Pujols connected on Peavy's eighth pitch.
"What an at-bat," St. Louis leadoff hitter David Eckstein said. "Being able to foul off pitches, take some pitches and then do what he did, that ignited the whole club."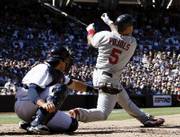 Peavy was hoping for far better results than Game 1 of last year's playoff series, when he lost 8-5 to Carpenter at St. Louis while pitching with two broken ribs. Peavy hurt himself when he jumped on Trevor Hoffman's head while celebrating the Padres' division title several days earlier.
Pujols, though, reminded Peavy and the Padres just how dangerous of a hitter he is. Peavy left a full-count cut fastball over the plate and Pujols drove it an estimated 422 feet into the Padres' bullpen beyond the fence in left-center.
Center fielder Mike Cameron climbed halfway up the fence in a futile effort at Pujols' 11th career postseason homer, which hushed the sellout crowd of 43,107 at Petco Park. Chris Duncan was aboard on a leadoff single.
Peavy knew he had little margin for error.
"It was a cutter that was right down the middle," Peavy said. "Yeah, those go wrong a lot."
The at-bat was kept alive when Piazza got a late jump on Pujols' foul pop and couldn't catch it at the screen.
Copyright 2018 The Associated Press. All rights reserved. This material may not be published, broadcast, rewritten or redistributed. We strive to uphold our values for every story published.