On the final day of the Marilynn Smith Sunflower Invitational at Alvamar Golf Club, the Kansas University women's golf team proved you don't need the top individual performer to win as a team.
Despite Amanda Costner - who had a one-stroke lead heading into Tuesday - dropping an 8-over-par 80 in the final round and sliding back to fifth overall, the Jayhawks took the team title in convincing fashion with a 14-stroke advantage over second-place Notre Dame.
"It just shows that we're all strong individually," said KU's Emily Powers, who moved ahead of Costner in the final standings after shooting a final-round 72 for a total of 225. "We're all very good, but we may not be the standout players overall."
While Costner said she was proud that the team - which also included Annie Giangrosso, Meghan Gockel and Jill Womble - maintained its distance from the rest of the field, she was upset with how she finished the home invitational.
"I'm pretty disappointed in how I played. I think it definitely got into my head a little bit," Costner said. "I was playing with a girl that I was competing with. I don't know. I just didn't take good shots and make putts, and my score reflected that."
O'Neil said her team still needed to work on being able to put away the competition whenever they have a lead heading into the final round.
"I think it's really difficult to have a lead going into the last day - it's added pressure on you," O'Neil said. "Which is actually something we don't have a lot of experience with yet, but it's a good start."
Photo Gallery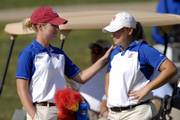 KU women's golf at Marilyn Smith Invite
Costner added: "I think the more you put yourself into that situation, the better you'll get at it. And honestly, I learned a lot today, so hopefully next time I'm in this situation, it will be better."
As scores began to come in during the early afternoon, it looked as though Missouri's Stephanie Wavro's score of 71 - the only round shot under-par in all three rounds within the field of 88 - was going to propel her into the lead from her fourth-place position going into the round. But Anita Ojeda of Arkansas-Little Rock, who was trailing Costner by one-stroke heading into the final day of competition, put up a 72 for a three-round total of 221 - one shot ahead of Wavro.
"I was really hoping for that a lot, but with being a freshman and all, I don't have that strong hatred towards the Mizzou Tigers, yet," Powers said. "But I'm sure that in the coming months I'll probably get it, and right now it's starting. But yeah, I was really hoping that Little Rock would come in and take the title."
Copyright 2018 The Lawrence Journal-World. All rights reserved. This material may not be published, broadcast, rewritten or redistributed. We strive to uphold our values for every story published.