Kennett Square, Pa. — Led to the gate for the first race of his career, Barbaro shied away, reluctant to get started.
A mile later, after an eye-catching 81â2-length victory on Oct. 4 at Delaware Park, trainer Michael Matz and owners Gretchen and Roy Jackson realized they might have a special thoroughbred.
"He broke sharp after that, and it was just a run for fun, pretty exciting," Matz said recently outside his barn at the Fair Hill Training Center in Elkton, Md. "We knew we had a good horse."
Runs for fun have been replaced nearly a year later with careful walks after the Kentucky Derby winner took a horrible misstep a few strides into the Preakness and shattered his right hind leg.
First there was five-plus hours of lifesaving surgery, then in mid-July severe laminitis struck and resulted in 80 percent of Barbaro's left hind hoof being removed.
Through it all, Barbaro has overcome every obstacle during an unforgettable year.
"You can just see it in him, he wants to survive," Barbaro's exercise rider Peter Brette said. "He does everything right to allow himself to get better. And he's had a really good month or so now. He's tougher than I gave him credit for."
A recent visit to the New Bolton Center's George D. Widener Hospital for Large Animals found Barbaro and Dr. Dean Richardson in good spirits, the horse grazing in the grass and his vet just horsing around.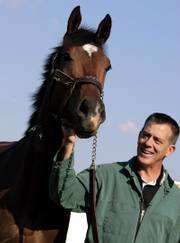 Barbaro has been taking walks outside the intensive-care unit since Aug. 9, when Richardson became convinced the colt was healing well enough to walk outside and soak up some sun.
He's been a good patient, too, behaving for the most part but turning frisky and bucking every now and then. He once kicked up both hind legs, Richardson said. His 30- to 45-minute strolls consist of munching away on grass, occasionally picking up his head and pricking his ears to check out a cow in the next field.
"He's very bright and happy when you bring him out. He tries to drag you around usually," said Richardson, New Bolton Center's chief of surgery who has cared for Barbaro from the start. "He's doing everything right. But there's still a long way to go."
Barbaro has at least six months to a year left in the hospital, says Richardson, but each day means more healing.
The horse receives the best veterinary care available, and the cost - in the tens of thousands of dollars - is not an issue for the Jacksons.
Money aside, major obstacles loom, particularly removing the cast and the regrowth of the hoof.
The cast could come off within two weeks and be replaced by a splinted bandage. It remains now because Richardson does not want to add stress on the foot with laminitis. "I'm being very conservative," he said. "The cast would be off the right hind if there was no laminitis in the left hind."
So far, the hoof has grown about 18 millimeters in the heel area, but "he's got to have three times that, at least," says Richardson. As the hoof grows back, the foot still remains vulnerable to another bout of laminitis or to infection.
At New Bolton, a few posters - including one that says: "Grow hoof grow" - remain on the entrance gate, reminders of how Barbaro has captured the hearts of horse-racing fans.
"You just don't know, but every day that goes by is a good sign," Jackson said. "It's encouraging we've gotten to this stage."
Barbaro timeline
May 6 - Wins Kentucky Derby by 61â2 lengths - largest margin of victory since 1946. May 20 - Breaks down at start of Preakness; shatters three bones in right hind leg. May 21 - Undergoes more than five hours of surgery at New Bolton Center in Kennett Square, Pa.; titanium plate and 27 screws inserted; surgeon Dean Richardson calls chance of survival a "coin toss." May 27 - Fitted with three-part, glue-on horseshoe for left hind hoof, helping reduce risk of laminitis. June 13 - Cast changed for first time; Richardson says "leg looks excellent." July 8 - Develops "potentially serious" complications to injured leg; undergoes surgery to treat new infection in leg; Cast, plate and many screws replaced. July 13 - Richardson discloses colt has laminitis, a painful and often fatal disease; vets remove 80 percent of left hind hoof to treat condition; Richardson says chances of survival "poor." Aug. 9 - Taken out of intensive-care unit and grazes outside for first time. Aug. 17 - Sling no longer used to support weight while in stall; taken off pain medications. Sept. 26 - Richardson says right hind leg is nearly healed; hoof on left hind leg beginning to grow back.
Asked what might have been in the Breeders' Cup at Churchill Downs on Nov. 4, Richardson looked at Barbaro and laughed: "I don't think he's going to run."
After capturing the Kentucky Derby by 61â2 lengths - the largest winning margin in 60 years - Barbaro immediately was touted as the next Triple Crown champion and first since Affirmed in 1978.
Now, Barbaro's brilliance is revealed in being clever enough to survive against the longest odds.
He already has conquered major hurdles in his extraordinary recovery attempt, including a serious infection in his shattered leg and coping with heavy doses of pain medication when laminitis struck.
That he's even alive is just short of a miracle.
The end was close in mid-July, when Richardson gathered the Jacksons and Matz and his wife, D.D., at the hospital. He told them Barbaro had developed severe laminitis, a painful and often fatal disease brought on by excessive weight bearing on one leg due to injury of another leg.
A decision whether to end the colt's life needed to be made, and Richardson would hold a news conference the next morning, July 13.
"It was terrible," Richardson said of the night that moved Roy Jackson to tears. "I wouldn't have blamed anyone at that point for saying they just couldn't face the prospects of going on."
But Matz and Richardson said there was something about Barbaro that told them he still had some fight left. He wasn't suffering - the aggressive treatment including epidurals to ease the pain was working - and there was still a bright look in his eyes.
"Gretchen didn't want him to suffer, and my wife felt the same way," Matz said. "Roy and I - and Dean - we thought you have to give him a chance. He's come this far. I didn't think you could look at him and not give him a chance."
With an auditorium packed with media, a grim Richardson bluntly described the situation at the news conference and called Barbaro's chances of survival "poor."
A day later, though, Barbaro was on the mend. He's been steadily gaining weight, moving well and looking happy to go outside and be a horse again.
"I really believe it's a miracle," Gretchen Jackson said. "Everything has just seemed to come together against incredible odds."
The outpouring of get-well cards, flowers and gifts hasn't let up, either. During his stay, the colt has been sprinkled with holy water and received hundreds of gift baskets and thousands of drawings from children wishing him well. Tens of thousands of e-mails have been sent to the hospital's Web site.
Jackson recalls one that read: "Believe in Barbaro: A Miracle in Progress."
"That about sums it up," he said.
Barbaro still has a catheter attached to his neck, and a few white blotches on his left side from previous surgery and from being in a sling. Though the prospect of becoming a stallion and producing little Barbaros is still a long way off, there's much more optimism today that he will live out his life on a farm.
"I'm happy and proud of what we have done so far, but I'm also not taking too many pats on the back until this horse actually leaves," Richardson said. "Then, I'll happily accept a party."
For now, the wait goes on.
"Hopefully," Matz said, "we made the right decision."
Copyright 2018 The Associated Press. All rights reserved. This material may not be published, broadcast, rewritten or redistributed. We strive to uphold our values for every story published.