Kansas City, Mo. — Alex Smith claims he was surprised. Imagine how shocked a stadium full of Kansas City Chiefs fans must have felt.
They've grown accustomed, game after game, year after year, to having one of the sorriest defenses in the NFL, a leaky unit guaranteed to waste whatever offense the franchise might construct.
Nevertheless, while the offense and special teams played nearly mistake-free football, the Chiefs defense did even better. It held San Francisco (1-3) to 165 net yards Sunday in a 41-0 rout of the 49ers.
"It's pretty discouraging," San Francisco coach Mike Nolan said. "That's a pretty tough loss. I would say that's the most difficult loss in the year and a half that I have been here."
The Chiefs sacked Smith five times while holding the
second-year quarterback to 13 completions on 25 attempts. He hadn't thrown an interception his first three games. But the Chiefs got him twice.
"I didn't see it coming," said Smith. "I think it was embarrassing. It was definitely frustrating."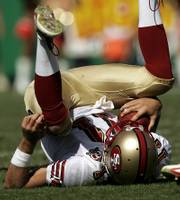 His first interception, by safety Sammy Knight in the first half, was followed immediately by a 34-yard touchdown pass to Eddie Kennison from Damon Huard, who made fans forget, for a week at least, about the injured Trent Green.
"We clicked on all three phases today," said Chiefs coach Herm Edwards. "These guys been playing hard, coaches been coaching hard the past couple of weeks. And we finally got a win."
The Chiefs' defense has not allowed a touchdown in two straight games.
"We just came out here and played all-out and played with our heart," said rookie defensive end Tamba Hali, who had one of the sacks. "We're going to let teams know that we have a good defense."
Copyright 2018 The Associated Press. All rights reserved. This material may not be published, broadcast, rewritten or redistributed. We strive to uphold our values for every story published.