Video cameras were monitored. Side doors were locked. And crisis response plans - what teachers and students are to do if an intruder enters the building - were reviewed at Lawrence schools Monday.
"We're in a heightened state of awareness," Supt. Randy Weseman said Monday afternoon.
In the wake of the nation's third deadly school shooting in less than a week, Lawrence officials quietly reviewed security measures in place at the district's 16 elementary schools, four junior highs and two high schools.
Two separate incidents had Weseman and other administrators talking Monday:
¢ Three girls were reported killed by a milk truck driver who took a dozen hostages in a one-room Amish schoolhouse in Pennsylvania.
¢ In Las Vegas, four schools were locked down while police searched for a teenager spotted at a high school with a gun.
Monday's incidents followed other school violence last week.
On Friday, a school principal was gunned down in Cazenovia, Wis., and a 15-year-old student was charged with murder. Two days earlier, an adult gunman held six girls hostage in a school at Bailey, Colo., before killing a 16-year-old girl and then himself.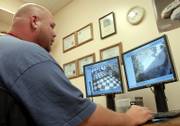 State of readiness
Weseman said security at Lawrence schools includes plans for dealing with intruders, video cameras to monitor activities and keeping side doors locked to limit access.
"We're doing everything humanly possible to make sure these environments are as safe as they can humanly be," Weseman said. "That's my highest priority."
School officials also work with the police who sometimes stage intruder scenarios on the weekends as training exercises.
"I don't think we should live in a state of fear. I think we should live in a state of readiness," Weseman said.
For example, at Lawrence High School, security includes about two dozen video cameras monitoring doorways, hallways and other areas of the building; controlled access to the school; three security guards; and Jon Barta, a Lawrence Police officer who is stationed at LHS as the school resource officer.
Steve Nilhas, LHS principal, said he reviewed security today with Beryl New, assistant principal, and Barta. Last Friday, Barta sent out information to staff about "lock-down procedures" in case there is an intruder, he said.
Audio Clips
Security at Lawrence Public Schools
"That's a procedure where we would limit access to classrooms, the doors are locked and students aren't allowed to leave the classroom," he said. "We don't want people out in the hallways, and we want classrooms to have minimum accessibility."
Rick Gammill, director of special operations and chief of security for the district, said similar crisis response plans have been set up for each of the district's schools.
Gammill said after the Colorado incident last week, he sent e-mails to all the principals suggesting they review those plans. Schools practice them once a semester, he said.
"We have tried to be, in the Lawrence public schools, very proactive regarding safety and security," he said. "That's certainly our No. 1 priority."
Monitoring
Each high school has three security officers and one Lawrence police officer. Each of the junior high schools also has a Lawrence police officer serving as a school resource officer, Gammill said.
Each of the high schools have 16 to 24 cameras now and there are plans to have up to 40, he said. The cameras can be viewed from a monitoring room and from a Web site accessible with a security code, he said.
"We also did a security survey in conjunction with the Lawrence Police Department, at each one of our schools," he said.
Recommendations from those surveys have led to improved sight lines at the schools so that it is easier to see who is coming and going from each school's front doors, he said.
The recommendations also stressed that only the main door of each of the school buildings be unlocked during the school day, he said.
In the near future, Lawrence schools will have magnetic security access cards for each staff member, which would eliminate keys, Gammill said.
The following is the school board's policy on security and safety, which was last updated Oct. 27, 2003: Security and Safety Security devices may be installed at district attendance centers. Other measures may be taken to prevent trespassing on school grounds and intrusions or disturbances from occurring in school buildings. The district shall cooperate with law enforcement in security matters and shall, as required by law, report felonies and misdemeanors committed at school, on school property or at school-sponsored activities. Security Personnel The superintendent may employ security personnel. The superintendent shall inform the board about arrangements to hire security personnel. Reporting Crimes at School to Law Enforcement Any district employee who knows or has reason to believe any of the following has occurred at school, on school property or at a school-sponsored activity shall immediately report this information to local law enforcement: ¢ An act which may constitute the commission of a felony or a misdemeanor; ¢ An act which involves the possession, use or disposal of explosives, firearms or other weapons as defined in current law. The board recommends that the employee who made the report, or another employee, notify the building administrator. Reporting Certain Students to Administrators and Staff Administrative, professional or paraprofessional employees of a school who have information that a pupil falls into one of the following categories shall report the information and the identity of the pupil to the superintendent. ¢ Any pupil who has been expelled for conduct which endangers the safety of others. ¢ Any student who has been expelled for commission of a felony; ¢ Any student who has been expelled for possession of a weapon; ¢ Any student who has been adjudged to be a juvenile offender and whose offense, if committed by an adult, would constitute a felony, except a felony theft offense involving no direct threat to human life; ¢ Any student who has been tried and convicted as an adult of any felony, except theft involving no direct threat to human life. (See K.S.A. 8222) The superintendent shall investigate the accuracy of the information and, if it is determined the student falls into one of these categories, the superintendent shall provide information and the identity of the student to all employees who are involved or likely to be directly involved in teaching or providing related services to the pupil. Annual Reports The principal of each school shall prepare all reports required by law and provide them to the board and the state board of education annually. Reports shall not include any personally identifiable information about students. These reports and this policy may be made available upon request to parents, patrons, students, employees and others who request this information. Staff Immunity No board of education, board member, superintendent of schools or school employee shall be liable for damages in a civil action resulting from a person's good faith acts or omission in complying with the requirements or provisions of the Kansas school safety and security act. The following is the Lawrence school district's policy on security cameras, as last reviewed Nov. 29, 2004: The district may use security cameras to monitor student activity. Security cameras may be used to monitor students using school-provided transportation and to monitor student behavior in or around any district facility. Surveillance records of student behavior shall be secured in a locked file until the media are either reused or erased. These records may be reviewed as needed and either reused or erased as soon as feasible after the reviewer determines that they are not required for the purpose of student discipline. The surveillance records shall be considered a student record and shall be subject to the legal restrictions concerning the release of student record information.
Copyright 2018 The Lawrence Journal-World. All rights reserved. This material may not be published, broadcast, rewritten or redistributed. We strive to uphold our values for every story published.