It is 5:45 a.m. Monday, the sky pitch black outside Allen Fieldhouse, no sun in sight.
A solitary female jogger dashes through the northwest parking lot toward Naismith Drive, pigtails flopping on an unusually warm, humid early October morning.
Oh, it is definitely peaceful an hour before dawn.
Inside KU's tradition-rich basketball palace, however, there is activity.
Bright lights illuminate the court where Kansas University coach Bill Self has assembled his 14 players for a 6 a.m. session of KU's two-week conditioning program, aptly named "Boot Camp."
"Sit wherever you want. You can participate if you want," Self says, both greeting and issuing a challenge to two reporters and one media relations director.
No thanks, coach.
Seats in the student section behind the north goal would suffice to watch the Jayhawks execute a 52-minute, non-stop workout that - if taped and sold - might revolutionize the weight-loss industry.
"I lost 6 1â2, 7 pounds last week," junior guard Russell Robinson said, completely soaked in sweat after Monday's rope jumping, defensive slides, backboard touches, push-ups, sit-ups and sprints.
"It," Robinson added of what he endured, "is probably even harder than it looks."
"Hard" is too soft a word to describe Boot Camp 2006.
"It is living hell, but like coach Self says, we're walking strong every time we do this," junior forward C.J. Giles said, trying to catch his breath as he exited the court for the weight room, where he'd lift for a half hour prior to attending class on campus.
Photo Gallery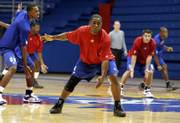 KU men's basketball boot camp
The Jayhawk players, who five days last week and five more this week drag their bodies out of bed at 5 a.m. for workouts without the use of a basketball, experience no pain from 5:35 to 5:59 a.m., when they receive treatment and/or stretch.
Things remain manageable during a center-court huddle in which the players and coaches bellow the words, "Hard Work," as they break right at 6 a.m.
Brandon Rush and Robinson are actually smiling while jumping rope, jogging and performing light footwork drills from 6 to 6:10 a.m.
The discomfort begins at 6:10 when players for 10 minutes dart to the free-throw line, then sprint back to the backboard, leaping high to touch the glass or the rim twice.
"That's probably my least favorite drill. I can't jump that high anyway," junior guard Jeremy Case said.
Sure the exercise is tough, yet according to Self, the toughest thing about Boot Camp is getting out of bed and walking over here saying, "Oh my God, I'm not going to get through today."
"After that, it is looking up at that clock saying, 'Geez, we've still got 22 more minutes of this.' It's a pretty grueling thing. We work them hard.
"They get to the last 10, 15 minutes, they can see the finish line. That first part of the workout, it's hard for them to see that finish line, makes it tough for them."
As one might expect, the last part of the morning conditioning workout is the most intense.
Monday's boot camp timeline
5:30-5:35 a.m. - Players make the short walk from their apartments at Jayhawker Towers to Allen Fieldhouse. 5:35-5:59 a.m. - Treatment in training room and individual stretching on fieldhouse floor. 5:59-6 a.m. - Center-court huddle, coach Bill Self and the players breaking with the words, "Hard Work." 6-6:02 a.m. - Jumping rope. 6:02-6:04 a.m. - Light jogging. 6:04-6:10 a.m. - Footwork drills, including defensive slides, Self pointing left, then right, the players heading in that direction. 6:10-6:20 a.m. - Backboard touches. Players run to the free-throw line, then sprint to the backboard, leaping high to touch the glass or the rim twice. All players sweating profusely by now. 6:20-6:25 a.m. - Sprints along the width of the court, shorter than going from basket to basket, but definitely testing stamina. 6:25-6:30 a.m. - Running through screens. 6:30-6:35 a.m. - Defensive slides, players pass imaginary ball, make cuts. 6:35-6:41 a.m. - Full-court defensive slides. 6:41-6:45 a.m. - Sprints to top of key, sliding out of bounds for push-ups and sit-ups. 6:45-6:52 a.m. - Suicide dashes up and down the full length of the court, first running to the free-throw line and returning, running to half court and back, running to other end and back. By far toughest drill of the morning. 6:52 a.m. - Players meet at halfcourt, totally spent, listening to words of encouragement from Self. Then it's on to weightlifting prior to 8:30 a.m. classes on campus.
Players sprint the width of the court sideline to sideline from 6:20 to 6:25 a.m., then after more defensive slides, push-ups and sit-ups, it's time for full length of the court "suicides" from 6:45 to 6:52 a.m.
"It's hard to keep going," Giles said of first running to the free-throw line and back, running to halfcourt and back and running to the end line and back.
"But like coach says, it's between your ears. If you think you can do it, you can do it."
Everybody on the team is able to make it through the suicides, sophomore Brennan Bechard and freshman Sherron Collins arm-in-arm with frosh Darrell Arthur as they trudge to the center line to listen to closing comments from Self once the session has ended.
"Coach pushes you so hard, you've got to be ready," Robinson said of the daily drills.
"You've got to keep the freshmen in good spirits, when they get down, keep 'em happy, smiling, because once you get here, you are going to do it. You're going to get through it. This team is going to push you."
A team leader, Robinson prepared for the start of the second week of Boot Camp not by resting over the weekend, but by working out on his own.
"Coach (Joe) Dooley came in yesterday and heard a ball bouncing," Self said. "Russell was shooting in the dark for a couple hours. He didn't even have the lights on, just natural sunlight shooting the ball.
"He (Robinson) knew with two days off he'd be sluggish," added Self, sluggish himself after arriving home late Sunday night after catching the Rolling Stones concert in Wichita.
"Most other guys just lay around, thinking, I'll save every bit of energy. Russell knows, 'I'm going to get a good sweat in, take it to tomorrow.'''
Self had to be pleased after seeing massive players like Sasha Kaun handling all drills with ease, as well as the standout sophomore group of Julian Wright, Rush and Mario Chalmers, seemingly effortlessly completing the suicides.
"These guys are in pretty good shape," said Self, who would not be able to catch a nap Monday with three recruiting visits scheduled at undisclosed sites.
"You see guys on good days they get through everything. Some days they don't. It's probably more mental than anything. They convince themselves they are so tired they can't get through it, but we are getting better at that.
"This is great for team unity, knowing they can get through and do something they didn't think they could do. This adds an extra element of toughness they can draw from and during the season say, 'This isn't so hard, remember when we did this (at Boot Camp).'''
The players for sure will remember the sprints and the slides and the jumping.
And the rolling out of bed way earlier than most students on campus.
"Walking here in the dark," Case said, "it's kind of like sleepwalking. 'Am I dreaming or do I really have to come over here?' It's kind of like that."
"You never will get used to getting up this early," Giles said, "but I try to find something fun about it. You've got to find something fun about it."
Like what?
"The season. How fun it's going to be later on."
Copyright 2018 The Lawrence Journal-World. All rights reserved. This material may not be published, broadcast, rewritten or redistributed. We strive to uphold our values for every story published.