Editor's Note: This is the fourth story in a five-part series about how Douglas County residents benefit from the 26 United Way agencies. Today, we look at Meals on Wheels, one of two agencies that foster independence.
Eighty-eight-year-old Eunice Hays, Lawrence, relishes her independence and self-sufficiency. Widowed 30 years ago, the mother of six worked until she was 70 years old and volunteered until she was 75.
So accepting a lunch from Meals on Wheels, a new United Way of Douglas County agency, was difficult for her.
"She didn't want to do it," her daughter Jana Montgomery said. "She didn't think it was something that she needed."
But Montgomery is glad she talked her mother into "trying it."
"She gets a better variety of food, and it's hot food," Montgomery said.
If Hays didn't get Meals on Wheels, Montgomery is sure her mom would be eating a sandwich and piece of fruit every day because that is what she ate before, something Hays doesn't deny.
"I've never had anything done for me that way," Hays said. "It's so convenient."
On Friday, she was delivered a meal of pork, peas, potatoes and bread along with some lettuce and a slice of tomato, cookies and orange juice.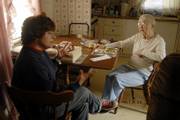 "It smells so good," she said. "I really like the way they cook the potatoes."
Providing companionship
Not only does Hays enjoy the food, she looks forward to seeing the volunteers who deliver it.
"It breaks up the day for me," she said.
Though she has 23 grandchildren, 16 great-grandchildren and one great-great-grandchild, most of her family lives out of state. Only Montgomery and her family live in town.
"She is more alert," Montgomery said of her mom. "It's good that she is involved with other people."
Sometimes, the Meals on Wheels volunteers bring a book from the program's donated collection or chat for a few minutes. And sometimes the program reunites old family and friends.
Christy Jones, Lawrence, began delivering Hays' Friday meals in January. Jones said she recognized Hays' name right away. Hays' daughter Brenda Compton baby-sat Jones' niece and nephew, Niki and Danny Michel, who now are ages 29 and 28, respectively. Jones also attended school with Montgomery. Now, they enjoy catching up with each other's families.
How to give
The United Way of Douglas County campaign runs Sept. 12-Nov. 17. If you would like to donate to the United Way of Douglas County fundraising campaign, call 843-6626 or visit its Web site at www.unitedwaydgco.org and fill out a pledge form.
Jones said she enjoys her volunteer work.
"I think it not only means food and nutrition, but also a touch with the outside world," Jones said. "I really do try to visit and remember everyone's little things. Those things that are so important to them."
Jones said the hardest part is to stay on schedule when delivering meals. "Somehow, I think I'm a talker," she said.
Jones said Meals on Wheels makes it simple for the drivers, and her service can be done in less than an hour. She generally delivers about six meals every Friday. She also helps out when others can't make their routes.
"It's incredible how they do it," Jones said.
Program funding
Kim Culliss, executive director of Meals on Wheels, said the program provides meals for about 110 residents Monday through Friday. Culliss said there is a waiting list of about 10 residents. She would like to eliminate the list but that requires more funding, supplies and volunteers.
The program is funded by private donations, grants and fundraisers. She said Meals on Wheels purchases the meals, which are made to fit each client's dietary needs, from Lawrence Memorial Hospital.
Meals on Wheels charges clients $4.50 to cover the cost of food and menus, but the actual cost to the program for each meal is more than $6, which covers paperwork and overhead expenses. She said they don't turn away anyone if they can't afford to pay. Culliss said 30 percent of the program's clients have their meals paid for in full or in part.
Culliss said the program will use United Way dollars to buy more equipment such as lunch trays and paper supplies. Additional supplies and more volunteers would allow Meals on Wheels to add more clients. The program has 85 volunteers, 15 substitute drivers and four part-time employees, including Culliss.
Fostering independence
United Way of Douglas County agencies who foster independence: ¢ Meals on Wheels delivers nutritious meals to the elderly, homebound and/or disabled five days a week. 979-1440. ¢ Trinity In-Home Care Inc. provides in-home respite, attendant care and homemaker services for individuals with disabilities and older adults. 842-3159.
"During the past year, we have had to incur an increase in rent and utilities," Culliss said. "We work to keep the overhead as low as possible."
She said the Meals on Wheels' yearly budget is more than $100,000 and varies from year to year. She said the program has had about a 50 percent increase in its client base during the past six months and is hoping for an increase in funding to help offset those costs.
Culliss said the program has been serving Douglas County residents since 1970. Its goal is to serve homebound, elderly and/or disabled residents hot, nutritious meals so they can remain healthy and independent as long as possible.
For more information about receiving meals or volunteering, call 979-1440.
Copyright 2018 The Lawrence Journal-World. All rights reserved. This material may not be published, broadcast, rewritten or redistributed. We strive to uphold our values for every story published.