Philadelphia — Donovan McNabb juked and jived the way he did early in his career. Brett Favre had a throwback night, too - to his days of erratic interceptions.
McNabb ran for two touchdowns and threw for a pair, leading the Philadelphia Eagles to a 31-9 victory over the Green Bay Packers on Monday night.
Meanwhile, Favre, who has enjoyed many memorable moments on the national stage throughout his 16-year career, would like to forget this one. Favre misfired badly on several passes, including two interceptions that led to Philadelphia scores.
He left with a slight head injury late in the fourth quarter, but Packers coach Mike McCarthy said he didn't think the injury was serious.
McNabb finished 16-of-30 for 288 yards and had 47 yards rushing. He scored on runs of 6 and 15 yards, and connected with Greg Lewis on TD passes of 45 and 30 yards.
"I decided to go back to my style of play," McNabb said, "and if the opportunity is there, take full advantage."
Once a feared runner, Mc-Nabb had just 55 yards rushing last season when he was limited by injuries and missed the final seven games because of a sports hernia.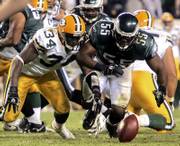 "He kept running on us," Packers defensive end Aaron Kampman said. "We were all trying to bring him down. He eluded a number of sacks. Just give him some credit. He's a good player."
Favre was 22-of-40 for 205 yards and had a passer rating of 44.2. He didn't speak to reporters after the game, and a team spokesman said he was complaining of headaches.
"It's in his head, a stinger," McCarthy said. "I think he will be fine."
Playing without injured running back Brian Westbrook, the Eagles started slow and trailed 9-7 at halftime following three field goals from Green Bay's Dave Rayner, including a 54-yarder that was right down the middle with plenty of distance. Correll Buckhalter, starting for Westbrook, lost two fumbles inside the Packers 5 in the first half.
Copyright 2018 The Associated Press. All rights reserved. This material may not be published, broadcast, rewritten or redistributed. We strive to uphold our values for every story published.