Kansas City, Mo. — The Kansas City Royals have been so inept for so long, things seem to go bad even when they go right.
They had a chance to become the first team in major league history to exercise the overall No. 1 draft choice two straight years, coupling that with being the only franchise in almost 30 years to post 100 or more losses three seasons in a row.
With just one loss in their season-ending three-game series at Detroit, they would get whomever they wanted in next June's draft. Everybody else would have to wait on them.
But the Royals, major league baseball's losingest organization this millenium, found a way to squander deficits of 0-5 on Saturday and 0-6 on Sunday. They had so much to gain by losing, but they won. A three-game sweep of the frustrated Tigers left them 62-100, one ahead of Tampa Bay, and now the Devil Rays get to pick No. 1 in next summer's draft, and the Royals must choose No. 2.
"I am confident our scouts will still get a top-flight player for us," general manager Dayton Moore said.
So it goes for a franchise that has averaged 97.6 losses a year since 2001, and only once since 1997 lost fewer than 85.
Amid the gloom of their fourth 100-loss season in five years, however, there do shine a few rays of hope.
Their names are third baseman Alex Gordon, outfielder Billy Butler, pitcher Luke Hochevar, infielder Mark Teahen and outfielder Mitch Maier.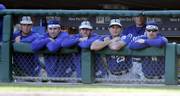 Gordon, the power-hitting third baseman taken with the No. 2 overall pick in 2005, was named minor league player of the year while hitting .325 with 29 home runs and 100 RBIs for Double-A Wichita.
Outfielder Butler won the Texas League batting title with a .331 average while fellow Wichita outfielder Maier hit .306.
Teahen, after a brief stint at Triple-A Omaha, was one of the top hitters in the American League the second half of the season. Hochever, taken with the overall No. 1 choice in June, could join the rotation as early as next year.
There do appear to be a swarm of good prospects on the verge of making their move. Next year's spring training could be the Royals' most interesting in decades.
The tendency is to withhold optimism. This is a franchise, after all, that's made a habit of bad decisions. But there is a new man in charge.
Overseeing it all is Moore, the impressive young protege of the Atlanta Braves' John Schuerholz who was hired as general manager May 31.
Moore seems to have brought renewed vigor and professionalism to the front office, as well as a couple of good major league candidates already. Midseason acquisition Ryan Shealy, a first baseman, has already hit one of the longest home runs ever in Kauffman Stadium.
Most importantly, Moore took the job only after exacting two key promises from owner David Glass: more money for scouting and player development, and less interference from Dan Glass, his team president and son.
Meddling was a frequent problem for former GM Allard Baird. But apparently that will not be an issue as Moore sets about changing the culture of a team whose glory years of 1976-85 are quickly fading in this age of instant gratification.
"We've hired 13 new positions in the organization - scouting, player development and front office," said Moore.
"We're very excited and grateful for the commitment from ownership to allow us to do what we feel we need to do to be one of the most competitive operations in baseball."
Moore's most important decision these next few weeks will be whether to retain manager Buddy Bell. With less than two weeks to go in the season, Bell, 55, underwent surgery to remove a growth near his left tonsil. The growth contained cancer cells, but doctors said they were able to remove it entirely.
Bell has one year left on his contract. And while Moore won't tip his hand, it sounds as though he and his staff will all be back.
"Buddy and I have a very respectful relationship," Moore said. "I am very encouraged by Buddy's willingness to embrace the changes we've made thus far.
"Players like Buddy. They like playing for him. They play hard for him. Ultimately, he's judged on the basis of the clubhouse environment, and players' willingness to go out and play."
Copyright 2018 The Associated Press. All rights reserved. This material may not be published, broadcast, rewritten or redistributed. We strive to uphold our values for every story published.