High winds put everyone at a disadvantage in the second round during the opening day of the Marilynn Smith Sunflower Invitational at Alvamar Golf Club.
But the Kansas University women's golf team had an advantage over the other golfers for when the ball wasn't in flight - the Jayhawks knew the breaks of the greens on their home course.
"With these greens, a lot of them are really tricky," KU's Amanda Costner said. "It looks like it's going to break one way and it breaks a complete opposite way."
Although Costner shot a 3-over in the second round after shooting an even-par 72 in the morning, she still leads the field of 88 golfers with a two-stroke advantage over Arkansas-Little Rock's Anita Ojeda.
"I have a knockdown shot that I like to play, and so that keeps it out of the wind," Costner said. "And growing up in Oklahoma I was always fighting the wind, so I didn't think it was huge. It was definitely windy, but it wasn't anything I hadn't seen before."
After solid scores were posted in the early morning first round, the wind and heat pushed the endurance of the players, who had to complete 36 holes over a 10-hour period.
"I think with 36 holes people start getting tired and a little dehydrated, so that was a big reason for it (higher scores)," KU coach Erin O'Neil said.
Photo Gallery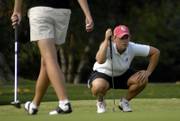 KU women's golf
Kansas' Annie Giangrosso actually improved her score in the afternoon session, following up her first-round 78 with a score of 76. She is in a six-way tie for sixth place.
"It was just one of those things where I didn't make any birdies in the first round," Giangrosso said. "But I just had to keep plugging away because I knew they were out there. So I just kept my head up and knew that they were coming and I got two - so that's the difference."
KU has two other golfers in the top 20. Emily Powers sits six shots off the lead in sole possession of fifth place, while Meghan Gockel's 12-over puts her in a tie for 16th place with five other golfers.
The placement of four golfers in the top 20 gives KU a 14-stroke advantage over Arkansas-Little Rock in the battle for the team title heading into the final round.
Things could get dicey during the later holes of the third round today with conditions looking to be the same as Monday.
"I think we're supposed to have the same or similar-type winds," O'Neil said. "Hopefully, in the morning, we'll probably get a couple hours in without 'em, and then they'll pick up towards the end. So that will always make it interesting.
"There's a lot of good teams here, and the plan is to just kind of go out (today) and take it one shot at a time. And just keep grinding and just remember it's not over 'til it's over."
Copyright 2018 The Lawrence Journal-World. All rights reserved. This material may not be published, broadcast, rewritten or redistributed. We strive to uphold our values for every story published.