London — John has discovered a cutlass in his bed; the twins are inexplicably covered in war paint - and a snapping crocodile is terrorizing the members of the gentlemen's club.
Wendy, always the most astute of Peter Pan's friends, knows what this means. "Something is wrong in Neverland, gentlemen," she announces. "And that is why we must go back."
And so begins another adventure with the impudent boy who never grew up: Thursday sees the publication around the world of "Peter Pan in Scarlet," the authorized sequel by award-winning British writer Geraldine McCaughrean.
The plot is being kept a secret until publication day, but London's Great Ormond Street Hospital for children, which owns the Peter Pan copyright and commissioned the sequel, is promising another tale of excitement and derring-do, featuring all the original's favorite characters. Royalties will be split between the hospital and McCaughrean.
"I wanted to extend the life and usefulness of (J.M.) Barrie's boy," said McCaughrean, who beat nearly 200 other entries in a competition to choose an author for the sequel. "The book was not hard to write because Peter really got a grip on me."
The book has already been sold in more than 30 countries from Japan to Estonia to Canada. Advance sales are so brisk that the book is already being reprinted in Britain and the United States, where the first print run alone was 200,000, according to Emma Dryden, who edited the book for Margaret K. McElderry Books, an imprint of Simon & Schuster.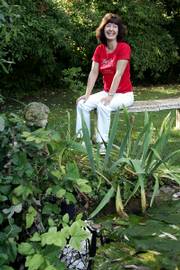 "Numbers like these really do compare with some of the finest commercial and fantasy fiction in recent years," Dryden said.
To whet appetites, the publishers have released the first chapter of the 275-page book, which has a dashing scarlet cover showing Peter clad in a waistcoat of vivid red leaves.
Twenty years after their original adventure, the children who first accompanied Peter to Neverland are all grown up: the balding John is married with children, Tootles is a judge, Curly a doctor and Slightly is now The Honorable Slightly, having married a titled lady.
All are having disturbing dreams of Neverland, and waking to find unexpected objects - a candle, a bow, a top hat - in their beds.
Neverland, concludes the sensible Wendy, is "rubbing against the Here and Now, wearing holes in the fabric in between." And so the adventure begins.
McCaughrean, 55, who already has 130 children's books under her belt, shows a deftness and assurance that allow the reader to slip seamlessly from Barrie's original to "Peter Pan in Scarlet."
She has dispensed with Barrie's Edwardian flourishes of language, but has maintained his characters, his witty style - including the dry asides to adults that so enchanted Barrie's readers - and the original's looming sense of menace.
Like the original, the sequel is pitched at readers aged 8 to adult.
"She's done a brilliant job - J.M. Barrie would definitely have approved," said David Barrie, the famous author's great-great-nephew. "The original worked on so many levels; there were so many subtexts that appeal to people of different ages. Geraldine has taken J.M. Barrie's inspiration and moved it into a new area."
Copyright 2018 The Associated Press. All rights reserved. This material may not be published, broadcast, rewritten or redistributed. We strive to uphold our values for every story published.