London — A new videotape shows two of the Sept. 11 hijackers smiling for a camera and reportedly reading a will in footage taken more than 18 months before they carried out the worst terrorist attack on U.S. soil.
Mohamed Atta and Ziad Jarrah look much different in the tape than they do in photographs made famous after the attacks in New York and Washington.
Both seem younger, are bearded, and the infamously bleak gaze of Atta, the ringleader of the attacks five years ago, is replaced by a somewhat softer expression. Osama bin Laden also appears on the tape, speaking to a large group of people in January 2000.
The Sunday Times, which originally reported on the video and posted it on its Web site, said the footage was taken in Afghanistan and was meant to be released after the men's deaths.
The soundless video appears to be a departure from previous releases by al-Qaida, which is "normally, very professional in their media," said Paul Beaver, an independent defense and security expert.
It did not appear on Web sites commonly used by the group. The newspaper quoted an unidentified American source who said that lip readers had been unable to decipher what the men were saying.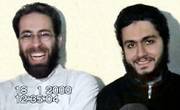 The Sunday Times said it had obtained the video "through a previously tested channel" but gave no further details. It said sources from al-Qaida and the United States had confirmed the video's authenticity on condition of anonymity.
The newspaper said the hourlong video was made at an al-Qaida training camp in Afghanistan, is dated Jan. 18, 2000, and contains the only known footage of Atta and Jarrah together.
Ben Venzke, head of the Virginia-based IntelCenter, which monitors terrorism communications, said the video was probably raw footage that al-Qaida had intended to edit into a package similar to one released last month showing the last testament of two of the Sept. 11 hijackers, Wail al-Shehri and Hamza al-Ghamdi.
For more than 30 minutes, the video shows Atta, who flew one of the planes that brought down the World Trade Center, and Jarrah, who piloted United Airlines flight 93, which crashed into a Pennsylvania field, sitting in front of a white wall, alternately alone and together.
The Egyptian-born Atta is wearing a dark sweater and pats his hair into place after trying on a hat for the camera. At one point, the camera pans out to show a machine gun leaning against the wall next to him.
Atta appears to be the more reticent of the two hijackers. During a portion of the tape showing them together, the Lebanese-born Jarrah laughs and smiles broadly as Atta shakes his head slightly. The conversation then seems to turn serious, and the tape shows the two sitting on the floor, hunched over papers, which The Sunday Times reported was Jarrah's will.
Bin Laden said a few years ago that he was saving Atta's last testament to release for a special occasion, Venzke said.
"It is highly unlikely that al-Qaida wanted the material to be released in this manner, and it is not consistent with any previous release," he said.
Diaa Rashwan, an Egyptian expert on militant groups, said he found it strange that the cameraman focused not only on bin Laden but also on his audience. He said normally al-Qaida videos of bin Laden just focus on him.
"Was this a video by al-Qaida or by a security agency?" Rashwan asked. "I have never seen such a video."
Copyright 2018 The Associated Press. All rights reserved. This material may not be published, broadcast, rewritten or redistributed. We strive to uphold our values for every story published.