Philadelphia — Making vaccines to prevent disease and death, long a noble but low-profit corner of the drug industry, is undergoing a major evolution.
But it's coming with a price.
Since 1985, the number of illnesses preventable by vaccines, from traditional scourges like diphtheria to newer targets like cancer, has doubled and is still rising with scientific breakthroughs.
At the same time, just a few vaccine-makers now dominates the market, and prices they charge Americans for the growing number of recommended shots have risen from an inflation-adjusted $84 to almost $1,200 - a fourteen-fold increase.
Now, after decades priced below what most experts called their actual value to society, vaccines at high prices are energizing profits for several big pharmaceutical companies. There is a flurry of research into new vaccines and even "preventative therapies" for conditions like diabetes, osteoporosis and cigarette addiction - all of which would command premium prices.
The rising prices, at the same time, are drawing scrutiny from the public, insurers and regulators. For now, Americans are accepting the costs, unlike some European countries that have balked, experts say.
"Vaccines really have been undervalued" at just a few dollars per dose, said Lance Rodewald, head of immunization services at the U.S. Centers for Disease Control and Prevention. "But new vaccines are not as cost-effective as the old vaccines. The risk is always there that they could become" overpriced.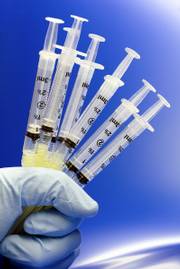 Vaccine boom
Price is just one element of what increasingly looks like a vaccine boom, with global sales predicted to grow from $8 billion this year to $18 billion by 2010. Scientific breakthroughs and a flood of government and charitable funding - much of it for Third World epidemics and a potential flu pandemic - may be creating a bonanza in a business that had become valued less for profit than for public health and corporate image.
Insiders hail new opportunities but, almost in the same breath, warn of obstacles, including a price backlash.
"Vaccines are going through what prescription drugs went through 20 years ago," when they became the world's most profitable industry, said Andrew Pasternak, an industry expert at Chicago-based Mercer Management Consulting. Citing pricing, insurance, litigation, patent issues and simmering safety concerns, he added: "The challenge will be not to fall into the same pitfalls where Big Pharma is now."
Vaccines differ from prescription drugs in two key ways: They are taken only once or twice by healthy people to prevent possible illness, not repeatedly like drugs for sick people willing to pay more for treatment; and most vaccines have been required or highly recommended by health authorities, with taxpayers picking up at least half the cost.
Gardasil is Merck & Co. Inc.'s new vaccine against cervical cancer, a disease caused by two strains of human papillomavirus, or HPV. Recommended for girls ages 11 and 12, Gardasil is listed at $360 for a three-dose course. That is more than double the price GlaxoSmithKline PLC first charged for Engerix-B, for adult hepatitis B, launched in 1990.
Merck's vaccine, and a rival planned by GlaxoSmithKline, are projected to take in as much as $1 billion a year by 2010. Merck defends the unprecedented price by saying, among other things, that Gardasil will help Americans save about $5 billion on HPV-related health care costs. The company also is giving away Gardasil to people with no insurance.
Prices on older vaccines are lower, but also rising, usually for reformulated versions that skirt an old federal price cap.
"Companies have made vaccines easier to administer, and that justifies a premium price," said Clifford Kalb, a veteran pharmaceutical industry marketer, now with the consulting firm Wood Mackenzie.
Changing prices
It is a far cry from the old approach. Vaccine prices were held low, sometimes just a few dollars a dose, to guarantee widest possible use.
Vaccines for a limited range of illnesses, such as polio and tetanus, usually made money only after many years on the market, while saving society untold billions in health care costs.
That model began breaking down in the 1970s and 1980s, as rising litigation and manufacturing costs squeezed profit from the aging products. Wyeth quit making flu vaccines rather than invest millions in required plant upgrades. Vaccine-makers sold out or went under, reducing their number from about 25 in 1980 to five last year.
Those five companies make about 80 percent of the world's vaccines: Merck, Wyeth, GlaxoSmithKline, Sanofi Pasteur Inc. and Novartis AG.
Now, the survivors, aided by liability protections enacted by Congress and armed with sophisticated cost-benefit analyses, are reaping the fruit of biotech breakthroughs, building up production facilities and demanding an aggressive pricing formula: If Americans want new vaccines, they must pay a price based on medical costs saved, not actual production or marketing costs.
"The thinking was, if we're going to continue to invest our money in the vaccine business and support our research and development, this needs to be profitable and competitive," said Peter R. Paradiso, Wyeth's vice president for new business.
Wyeth in 1999, a year after giving up on flu vaccines, pioneered what would become a blockbuster model for vaccine. It developed Prevnar to prevent deadly pneumococcal disease in children. And it won approval at the relatively high price of $59 per dose - justified in part by studies finding that the disease was costing society nearly that much in medical costs. Prevnar went on to become a $1 billion vaccine, eventually preventing even more medical costs than expected.
Copyright 2018 The Lawrence Journal-World. All rights reserved. This material may not be published, broadcast, rewritten or redistributed. We strive to uphold our values for every story published.