Baghdad, Iraq — Shiite politicians demanded changes in the Iraqi government Sunday, accusing a Sunni Arab party in the coalition of ties to terrorism after a bodyguard of its leader was arrested on suspicion of planning bomb attacks.
The dispute threatened a sectarian crisis within the national unity government of Prime Minister Nouri al-Maliki, which is struggling to contain spiraling Shiite-Sunni killings that the U.S. ambassador said have surpassed Sunni insurgent attacks in deadliness.
After the bodyguard's arrest, an unprecedented surprise curfew was imposed on Baghdad on Saturday, preventing pedestrians as well as vehicle traffic. The curfew was lifted early Sunday.
At least 23 people were killed in violence Sunday, and 21 bodies were found in Baghdad or to the south, many of them bound and tortured. In the evening, gunmen burst into a frozen food factory in Baghdad, kidnapping 24 workers and wounding two others - similar to past attacks in which militants have picked out members of the opposing sect from among the captives and killed them.
The U.S. military also reported Sunday that two American soldiers were killed the day before in fighting in western Anbar province - bringing to at least 70 the number of U.S. troops killed in September, the second highest monthly toll this year after April, when 76 died.
Iraqi troops backed by American military advisers arrested a suspected Shiite militiaman believed to have carried out kidnappings and killings. A gunbattle broke out at the suspect's house in Baghdad's Shiite stronghold of Sadr City, leaving a woman and a young girl dead, Iraqi police said.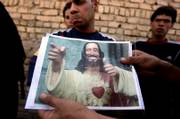 Afterward, angry men at the scene held up a color photo of a smiling, winking Jesus giving a "thumbs up" sign that they said was left by troops at the raided house - an allegation denied by U.S. and Iraqi officials.
The photo, known as the "Buddy Christ," is from the movie "Dogma," a 1999 religious satire in which "Buddy Christ" is part of a church campaign to improve Jesus' image.
U.S. military spokesman Lt. Col. Barry Johnson said the photo was a "rather ridiculous attempt" to discredit the raid. It was unclear how it ended up at the site.
The potential government crisis erupted after U.S. troops on Friday arrested a bodyguard of Sunni politician Adnan al-Dulaimi, saying the man was suspected of leading an al-Qaida-linked cell that was "in the final stages" of carrying out a string of bombings in Baghdad's fortified Green Zone, the center of government and home to the U.S. and British embassies.
Al-Dulaimi leads the Iraqi Accordance Front, the main Sunni Arab party with 44 seats in the 275-member parliament and positions in al-Maliki's government, including a supporter in the Defense Minister post.
The government also includes Shiite parties linked to militias accused of killing Sunnis - and the arrest threatened to wreck al-Maliki's attempts to forge a reconciliation between the sects that could rein in the militias as well as Sunni insurgent violence.
"We are faced with two choices, either militias or the nation. We will not allow the dignity of the nation to be violated," the Shiite prime minister said Sunday in an interview with Al-Hurra TV, which is funded and overseen by the State Department.
Copyright 2018 The Associated Press. All rights reserved. This material may not be published, broadcast, rewritten or redistributed. We strive to uphold our values for every story published.