At one time, Amanda Bayens toyed with the idea of building a career around her love of the French language.
"I wanted to be an interpreter or something like that, or to work for the government," Bayens said.
But after a few part-time jobs with children, her heart was tugged in another direction.
She said au revoir to a French degree and hello to a new love - teaching English language skills to 7- and 8-year-olds.
Bayens' romance with that energetic age group has bloomed at Pinckney School in Lawrence, where she teaches second-graders.
And others have noticed. She recently received a Horizons Award, given to the top new teachers in Lawrence public schools in their second year of teaching.
During a visit to one of Bayens' classes last week, it was evident how much she enjoyed her calling.
Calming influence
She gave second-graders a lesson involving a poem about going to the pumpkin patch. And despite keeping a serious tone, she let them be second-graders.
"When you're finished reading that poem (silently), touch your nose," she said.
Her voice was calm and in control as she kept the children on task and interested in the next phase of the lesson: reciting it rhythmically.
"Are you ready? I hope you blow my socks off," she said.
They excitedly recited it together to three musical beats. She methodically led them first to a slow tempo, then to a rock beat, explaining to them exactly where to take breaths.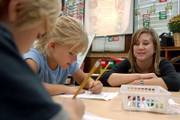 And finally she asked them if they wanted to do it at "hot pepper" speed.
"Hot pepper! Hot pepper!" several in the class said excitedly.
After the exercise, she calmed them back down and had her students take a pencil to circle all the letter I's in the poem.
"When you're done," she said in a calm voice, "put your pencil in the basket and stick your tongue out at me."
She looked around the room, holding the serious expression on her face as the students followed her instruction.
"Tongues back in," she said, getting quick responses.
"I love my kids," Bayens said a few minutes later after her class had gone to lunch. "They make everything worth it."
It's a lot of work - she estimated she put in 70 hours a week last year in class and in preparation.
"You have to be very dedicated," she said. "But when you start to see changes in students, it's extremely rewarding."
Lesa Frantz, Pinckney's principal, has said Bayens provides "an exceptional classroom climate."
"She just really is a shining star," Frantz said after Bayens received the Horizon Award from Supt. Randy Weseman.
Recognition
Bayens said the award was a complete surprise.
"My heart started beating really fast, and I started to get a little choked up and I was flustered. I was literally shaking," she said. "It felt incredible to be recognized for the effort and for the time that I've put into doing this."
A 2005 graduate of Washburn University, Bayens said she focuses on a classroom management technique called Love and Logic she learned as a student teacher at Topeka's Williams Science and Fine Arts Magnet School.
"I reward them for the desired behavior that I'm looking for," she said. "At the second-grade age, they want you to love them. They want to please. And so, if they know what you're looking for, they'll emulate that."
The job takes a lot of energy.
"But when I see kids kind of wiggling in their seats and getting into it, it also motivates me," she said.
Ten years from now, she's not sure where she'll be, but it will probably involve being in a classroom.
"I'd like to get a reading specialist master's," she said. "But I also toy around with the idea of finishing up that French degree, maybe Spanish and doing some ELL (English Language Learning) things. But ultimately, my goal is to be a professor and teach other people how to teach."
Copyright 2018 The Lawrence Journal-World. All rights reserved. This material may not be published, broadcast, rewritten or redistributed. We strive to uphold our values for every story published.