Kansas City, Mo. — This is what Herm Edwards had in mind when he took over the Kansas City Chiefs.
For the first time in Edwards' three-game tenure as coach, K.C. won the turnover battle, Dante Hall returned a punt for a touchdown, Larry Johnson found the end zone - twice - and the Chiefs won a game.
The Chiefs shut out the 49ers, 41-0, Sunday at Arrowhead Stadium.
"It's good for the players and the coaches," Edwards said of his first victory in Kansas City. "0-2's not a good start."
In their two losses, the Chiefs had scored just one touchdown. They scored five Sunday, including the first of the year for Johnson, who had 20 last season. Though he had 101 yards and a pair of scores, the 49ers defense held him to a pedestrian 3.4 yards per carry - 1.7 in the first half.
The 49ers frequently used four linebackers to stop the run.
"They dared us to pass," Chiefs quarterback Damon Huard said. "We passed, and we hit some big plays."
San Francisco coach Mike Nolan's strategy pushed Huard, filling in for Trent Green, to the forefront of the K.C. offense. Huard responded, completing 18 of 23 pass attempts with two touchdowns and no turnovers, good for a gaudy 133.3 quarterback rating.
It was Huard's first multiple-touchdown game since Nov. 21, 1999, with Miami. He credited Green's sideline insights for much of his success.
Photo Gallery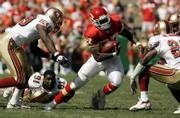 KC Chiefs vs. 49ers football
"He's been in this offense for 12 or 13 years," Huard said. "It was just great to have him down there."
Green will not play when the Chiefs travel Sunday to Arizona. His status for the following game, a visit to defending Super Bowl champion Pittsburgh, and thereafter is uncertain.
Huard proved the quarterback position was in capable hands in the meantime. Huard found Hall for a 13-yard score in the back corner of the end zone on the Chiefs' first drive and never looked back.
Hall also capped the Chiefs' scoring with a 60-yard touchdown on a fourth-quarter punt return.
It was Kansas City's first shutout victory since Dec. 1, 2002, when it blasted the Cardinals, 49-0. The Chiefs defense has not allowed a touchdown since the first half of their opening-week loss to Cincinnati.
"The defense continues to improve, but we've got to get better," Edwards said. "We gave up a couple of big plays, and we can't do that."
The Chiefs' last two first-round draft picks, linebacker Derrick Johnson and end Tamba Hali, each had 1 1/2 sacks, and offseason acquisition Ty Law snagged a fourth-quarter interception to seal the shutout.
"It was very important," Hali said of holding the 49ers scoreless. "We don't want them to think that it was a fluke, and we're going to let teams know that we have a good defense."
Edwards was not impressed.
"I expect that out of them, to be honest," Edwards said of keeping opponents out of the end zone. "The thing I like right now is that they're tackling. They're really hitting people."
¢ Gonzalez climbing charts: K.C. tight end Tony Gonzalez snagged five passes for 59 yards and has caught a pass in 87 straight games, the fourth longest streak for a tight end in NFL history. He also moved ahead of Ozzie Newsome for second on the career receptions list for tight ends and into third on the all-time TE yardage tally.
¢ Norris sighting: San Francisco fullback Moran Norris, who played at Kansas University from 1997 to 2000, started in place of Chris Hetherington. He had one reception for minus-seven yards on an ill-advised screen pass and recovered a teammate's muffed kickoff catch in the first quarter.
¢ Mom's first game: Hali's mother, who arrived in Kansas City on Thursday, saw her son play for the first time Sunday. Rachel Keita is enjoying a one-year visa from war-ridden Liberia, Hali's native country.
"If everything permits, hopefully we can keep her here," Hali told the Associated Press.
Copyright 2018 The Lawrence Journal-World. All rights reserved. This material may not be published, broadcast, rewritten or redistributed. We strive to uphold our values for every story published.