The Lawrence tennis community views Dick Wedel as a legend.
"I hope they eventually name one of these courts after him," Lawrence resident and tennis player Tommy Johnson said about the courts at the Lawrence Tennis Center.
Wedel coached the Lawrence High boys and girls tennis team for 27 years before Steve Hudson took over this season.
"That's also 54 seasons," said the 60-year-old Wedel.
Sunday morning, Wedel took the court against Baldwin resident John Ritchey in the men's 4.0 finals of the Douglas County Closed Tennis Tournament.
Ritchey is 35 years younger than Wedel. Coincidentally, Wedel saw Ritchey play for Southeast High in the state tournament about eight years ago.
In Sunday's battle of experience vs. youth, the latter prevailed. Ritchey held off Wedel in two sets, 6-1, 6-5. It wasn't as easy as the score indicated.
"He plays very smart out there and makes it very difficult to play against," Ritchey said of Wedel. "He knows all the right plays to make."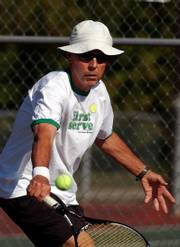 Wedel gained everyone's respect on the court.
Ritchey often said, "Nice shot, coach."
It would be a stretch to say the crowd rooted against Ritchey, but it was obvious everyone was pulling for Wedel.
Wedel positioned the ball brilliantly on the court.
He said he just wanted to keep the ball in play, but it was evident Wedel picked his spots. At one point, Wedel rocketed a point down the line and past Ritchey's racquet. He made the crowd laugh after that game.
"I'm going to go buy a lottery ticket with that last shot," Wedel said.
Ritchey also did his fair share to please the crowd, especially in the first set. He perfected a baseline return drop shot that might have been more fitting for an And-1 mix tape video than for a tennis match.
Ritchey softly returned a Wedel serve over the net. Initially, it didn't look like much. Once the lob hit the ground, however, it spun back away from Wedel's outstretched arms and hit the net for the point.
"I probably had a little bit too much time on my hands to practice that kind of stuff," said Ritchey, jokingly, after the match. "It was nice, though."
Wedel said he would continue to play tennis as long as he could.
"I've been playing for about 45 years or so, and I hope I'm not done yet," Wedel said. "Football players and basketball players, none of them are going to be saying that."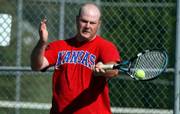 So how does he keep doing it?
"I just keep playing," Wedel said. "If you quit playing, then it's hard to come back. I played a lot over the summer. I've been riding my bike to work. As long as you stay active, you can keep active."
In women's competition, Lawrence resident Sherry Ingles kept herself busy.
She entered three divisions of the tournament - women's open singles, mixed doubles and women's doubles.
"I think it was a little bit of naivete, because I moved from Salina, and they had a big county tournament there," Ingles, 48, said. "The maximum you could enter was three events. We always did, but I forgot that tournament lasted a week. This was a weekend, so I just did it quickly and without thinking."
Ingles defeated Silvie Cornet, 10-1, on Saturday in women's 3.5 singles. She also won twice in doubles play, and once in mixed matches.
Copyright 2017 The Lawrence Journal-World. All rights reserved. This material may not be published, broadcast, rewritten or redistributed. We strive to uphold our values for every story published.