For one last time Sunday, Grandma came out to say goodbye to No. 92.
Grandma - Learlean Glover - told a crowd of Lawrence Youth Football players, coaches and parents that her grandson, 11-year-old DaVonte Brockman, would always be looking down on them.
"This is so wonderful," she said, fighting back tears. "It's so hard, but I have to make it."
The league retired DaVonte's football jersey number, 92, in a leaguewide ceremony Sunday during halftime of league games at the Youth Sports Inc. complex, 4911 W. 27th St.
Now, no other member of DaVonte's team, the Twisters, will be issued his number.
DaVonte died Sept. 17 in a house fire along with his grandfather and Learlean Glover's husband, Charles Sr., and three other grandchildren.
Fire and police investigators couldn't determine the cause of the fire.
Since then, the Glovers have spent their days planning funeral services, hosting out-of-town family and mourning their losses, they said.
Learlean Glover, the only survivor of the fire at 1205 N.J., spent days in the hospital because of smoke inhalation and cuts from being dragged out of her bedroom window.
Photo Gallery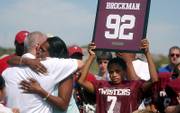 Ceremony honors Brockman
Besides the public memorial service Sept. 24 at the Kansas Union Ballroom, Sunday marked one of her first public appearances since the fire.
League president Bret Toelkes said after all that the family has been through, Sunday's ceremony was the least the league could do.
"We want to make sure they know how much we care for their kids," Toelkes said.
Before the ceremony, the Glover family tailgated with friends and parents of other Twisters players. A league coach came by and handed out No. 92 stickers.
Players leaguewide will wear them on their helmets for the rest of the season. Diana Glover, DaVonte's aunt, stuck the sticker on her sweater, just above her heart.
"That's my baby," she said.
During halftime, all of the teams and parents gathered around the Twisters. Coach Roger Ross grabbed a megaphone but fished for words. Talking about DaVonte, a lineman for the Twisters, was still so difficult, he said.
"It's been emotional for my teammates and the coaches," he said.
Alongside Ross, two Twisters players held a brick-red blanket - the Twister's color - with the name "Brockman" and a 92 printed on it. Each player and coach had signed it around the Twisters' tornado logo.
Ross then told two players to present the blanket to the Glovers.
Diana Glover pulled it close to her and thanked the boys.
"It's a blanket to keep you warm," Ross said. "It's going to get cold soon."
Fighting his emotions, Ross handed the megaphone to Toelkes, who presented the family with the framed jersey with DaVonte's name and number on it.
"Your family touched our whole community two weeks ago," he told Diana Glover. "It still does."
Crying, the family invited Learlean Glover over. She had just arrived. She walked to the megaphone through applause and hugs.
She couldn't say much, her voice shaking. The woman everyone here called Grandma whispered words of appreciation.
"This is all so wonderful," she said.
DaVonte's teammates, parents, coaches and family all erupted in applause.
"We feel for you, we pray for you and we still love you," Toelkes said.
Fire at 1205 N.J.
Fatal fire at 1205 N.J.
Copyright 2018 The Lawrence Journal-World. All rights reserved. This material may not be published, broadcast, rewritten or redistributed. We strive to uphold our values for every story published.