Kansas City, Kan. — Tony Stewart coasted to victory Sunday in the Banquet 400.
In more ways than one.
Stewart had a 17-second advantage over runner-up Casey Mears.
Midway through the final lap, Stewart's fuel tank hit empty.
"We had a top-three or -four car pretty much at the last third of the race - in my opinion - and at the end (crew chief Greg Zipadelli) called me and said we couldn't make it on fuel and that we would be about a half-lap shy, according to their calculations," Stewart said. "He said I was about half-lap shy, and I was probably about 700 yards further when I ran out of fuel. But the pace picks up so much at the end of the race when it starts cooling off that you use more fuel."
After starting 21st, Stewart spent just 43 of the 267 laps out of the top 10 - all of which were at the beginning of the race - and drove out in front during the final five laps.
Stewart had elected to stay out on the course when other drivers came in for a splash-and-go. A main reason behind his decision was the fact that the team wasn't contending for the Nextel Cup championship.
"We had nothing to lose. When you're not in the Chase, and you know those guys can't take that chance, it opens the door for us to take that chance and gives us that shot to do that today," Stewart said.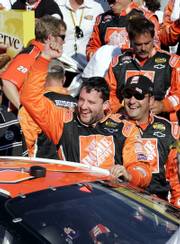 It was a reversal of fortunes for Stewart's team. In years past, it had fallen victim to such decisions.
"For some reason, I don't know, because for almost eight years now, that's been us," Zipadelli said. "But we were able to stretch it today. We had good fuel mileage, (which) is something we've been working on hard lately in trying to get it better."
The No. 20 car was coming into the Banquet 400 with the second-best average finish (7.6) in the five years of the 1.5-mile oval track, but not once did he drive into Victory Lane in Kansas. Stewart credits being able to get a little extra work on the track when he raced in the Busch Series race Saturday.
"From my side, my strategy probably changed a little bit after running the Busch race yesterday," Stewart said. "Normally, I am like a catfish, sucking on that white line and running around all day on the bottom - pretty much committed to it. But yesterday, we worked on not being that committed to the bottom in practice, and then in the Busch race, I ran a bunch of laps on the top of the race track, so at least I knew there was something there.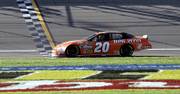 "Today, I think we were the second or third car that started moving up. Having the run yesterday helped me to have the knowledge, the laps and the experience to do that today in the Cup race."
Although Stewart's finish has no implications in the Chase for the Nextel Cup, points leader Jeff Burton was able to finish fifth and actually increase his lead in the standings.
"I was afraid that it was going to be worse than that," Burton said. "I was afraid we were going to finish 15th or 20th or whatever. I hate those fuel-mileage things. But my guys did a great job today. We had a really good car. Again, it was good when it needed to be."
Copyright 2018 The Lawrence Journal-World. All rights reserved. This material may not be published, broadcast, rewritten or redistributed. We strive to uphold our values for every story published.