Nashville, Tenn. — As long as Drew Bledsoe and Terry Glenn are connecting for touchdowns, they don't mind when Terrell Owens gets all the attention.
In a game that featured T.O.'s appearance five days after an "accidental overdose" and the first NFL start of Tennessee rookie Vince Young, Bledsoe and Glenn hooked up on two 13-yard touchdown passes Sunday and the Dallas Cowboys beat the Titans 45-14.
Bledsoe sees Owens, the five-time Pro Bowl selection, and Glenn, his former teammate at New England, as the best tandem of receivers he's ever had. Still, Owens is the one who draws extra defensive help.
"When Owens is out there, (Glenn) gets single coverage and you can't cover him one-on-one," Bledsoe said.
Owens did indeed play with his broken right hand protected by a plate and a glove only five days after his hospital visit for an accidental overdose. He caught five passes for 88 yards but also dropped a pass in the end zone he couldn't pull in with his injured hand.
"He caught a couple balls," Dallas coach Bill Parcells said. "You were there. What do you think? I was pleased with the offense."
There was added drama when Titans defensive tackle Albert Haynesworth stomped on Dallas center Andre Gurode's face and was ejected. Gurode needed stitches above his left eye and didn't return because of blurry vision.
Titans coach Jeff Fisher apologized, and Haynesworth was contrite.
"If they suspend me that's fine," Haynesworth said. "Because for what I did, whatever they give me, I deserve it. I did it and it's wrong. That's not the game of football that's not how it's supposed to be played. I let my team down."
Colts 31, Jets 28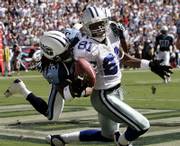 East Rutherford, N.J. - Justin Miller's 103-yard kickoff return gave New York the lead with 2:20 left.
Payton Manning led Indianapolis (4-0) on the winning drive, capping it with a 1-yard run that gave the Colts a wild victory.
Manning was 6-of-8 for 60 yards on the drive, including a 19-yard pass to Marvin Harrison and a 15-yarder to Reggie Wayne that put the football at the 1.
Running the no-huddle offense, Manning then took the ball and pushed himself into the end zone.
Manning finished 21-of-30 for 217 yards and a touchdown.
Ravens 16, Chargers 13
Baltimore - Steve McNair threw a 10-yard pass to Todd Heap with 34 seconds left for the win.
The Ravens (4-0) never led until Heap bulled his way over the goal line. Until that final drive, San Diego (2-1) appeared poised to remain unbeaten.
McNair finished 17-for-30 for 158 yards and two TDs.
Redskins 36, Jaguars 30, OT
Landover, Md. - Santana Moss leaped between two defenders to catch a 68-yard touchdown pass 1:49 into overtime.
After blowing two fourth-quarter leads, the Redskins (2-2) won the toss at the start of overtime and needed only three plays to score.
Brunell found Moss near the sideline and Moss left Brian Williams and Deon Grant flat-footed as he snagged the ball on the run.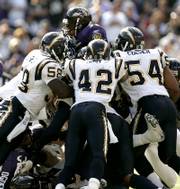 Texans 17, Dolphins 15
Houston - David Carr scored the go-ahead touchdown on a 1-yard run.
The Dolphins (1-3) trailed 17-9 when Daunte Culpepper found Chris Chambers for a 16-yard touchdown with 1:39 to go. Miami went for the 2-point conversion, but the pass by running back Ronnie Brown was tipped by Williams and sailed over Chambers' head.
Patriots 38, Bengals 13
Cincinnati - Laurence Maroney ran for 125 yards and a pair of touchdowns.
Maroney stiff-armed his way through the Bengals (3-1) on touchdown runs of 11 and 25 yards that set the tone. Brady was 15-of-26 for 188 yards and a pair of TDs.
Carson Palmer was sacked four times and lost a pair of second-half fumbles that set up touchdowns. Palmer was 20-of-35 for 245 yards.
Rams 41, Lions 34
St. Louis - In a shootout befitting Mike Martz's return to St. Louis (he's the Lions offensive coordinator), Isaac Bruce caught a 5-yard touchdown pass with 1:56 to play for the Rams.
Trailing 34-33 with 4:42 to play, the Rams (3-1) got the ball and marched 56 yards in seven plays, scoring when Marc Bulger threw to Bruce, who caught his first TD pass of the season.
Bulger and Bruce then connected on a 2-point conversion.
Falcons 32, Cardinals 10
Atlanta - DeAngelo Hall returned an interception 36 yards for a touchdown, Jerious Norwood broke off a 78-yard scoring run and 46-year-old Morten Andersen kicked five field goals in Atlanta's victory. The Falcons take a 3-1 record into their bye week.
Bills 17, Vikings 12
Orchard Park, N.Y. - J.P. Losman passed for 222 yards and a touchdown and set up another score with a 15-yard scramble, and the game ended with the Vikings on the Bills' 16-yard line.
Losman completed 23 of 32 passes to help the Bills (2-2) snap a four-game home losing streak. Peerless Price scored on an 8-yard touchdown catch and Willis McGahee scored on a 1-yard plunge.
Panthers 21, Saints 18
Charlotte, N.C. - Jake Delhomme threw a 4-yard touchdown pass to Drew Carter midway through the fourth quarter for Carolina (2-2).
The Saints (3-1) took their first lead early in the fourth quarter.
Then Steve Smith got loose late. He caught three passes for 35 yards on the 91-yard drive. Then, Delhomme lobbed a 4-yard pass to a wide open Carter to put Carolina ahead 14-10 with 7:15 left.
DeShaun Foster's 43-yard touchdown run on third down with 1:45 left made it 21-10.
Browns 24, Raiders 21
Oakland, Calif. - Charlie Frye threw three TD passes and Cleveland (1-3) used three long returns to rally from an early 18-point deficit.
Frye, used a second-half rally to win in Oakland for the second time in his young career despite another late interception that almost cost him the game.
Frye did his work with TD passes to Kellen Winslow and Joe Jurevicius in the third quarter for Cleveland (1-3).
Bears 37, Seahawks 6
Chicago - Rex Grossman threw for 232 yards and Ricky Manning Jr. intercepted two of Matt Hasselbeck's passes.
Grossman had another solid performance, completing 17 of 31 passes with two touchdowns and no interceptions, and the Bears improved to 4-0 for the first time since 1991. Bernard Berrian had three receptions for a career-high 108 yards and a touchdown.
Thomas Jones rushed for 98 yards and two touchdowns.
And the league's fourth-ranked defense shut down a Seahawks team that was missing injured running back Shaun Alexander.
Hasselbeck was 16-of-35 for 196 yards and did not throw a touchdown, after tying a franchise record with five scoring passes the previous week in a 42-30 victory over the New York Giants. He was sacked five times - including twice each by Tommie Harris and Mark Anderson.
Copyright 2018 The Associated Press. All rights reserved. This material may not be published, broadcast, rewritten or redistributed. We strive to uphold our values for every story published.