Kansas City, Kan. — Kevin Harvick continued his dominating season, winning the Yellow Transportation 300 at Kansas Speedway on Saturday afternoon.
"Kevin's been killing the Busch Series this year," said Matt Kenseth, who finished second after leading a majority of the race.
Harvick now leads the NASCAR Busch Series standings by 729 points over second-place Carl Edwards. The victory represents his seventh victory this season and 24th career Busch Series victory. He also has finished in the top 10 in 27 of the 30 series events this year.
Saturday's victory puts him in select company, making him the first Busch driver to win seven races in a season since Dale Earnhardt Jr. did so while winning the 1998 title.
"It's been incredible this year to be a part of," Harvick said. "You don't ever know when it's going to stop. We've got to enjoy it while we can."
Finishing behind Harvick, in order, were Kenseth, Kyle Busch, Tony Stewart and Emporia native Clint Bowyer.
Harvick started seventh Saturday, but passed pole-winner Kenseth during the latter's pit stop with 35 laps to go.
"The bottom line is the pit stop won the race," Harvick said.
Following the pit stop, Harvick moved into second behind Busch. On the 185th lap, Harvick took a lead which he never surrendered.
The race lasted two hours, 41 minutes and 21 seconds because of 10 caution flags, which tied a track record. Four cautions, including two in the final eight laps, occurred during the last 28 laps.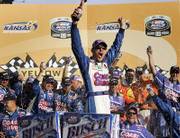 "There were like three or four wrecks right there in front of us," said Stephen Leicht, who finished 12th and received Reybestos Rookie of the Race honors. "We were sweating to get through."
The top three finishers will compete again in today's Nextel Cup race, but they said the experience of driving race on the same 1.5-mile track Saturday did not give them an advantage. Their Nextel cars have different wheelbases and spoilers from their Busch Series vehicles.
"They're enough different where I haven't been able to use the same stuff," Kenseth said. "You can run some laps on the track and see what the grooves are going to do and what the tires are going to do. : Other than that, I can't learn anything from that car for tomorrow."
The other drivers, however, have learned that catching Harvick in the Busch Series is nearly impossible. If Harvick nets a mere 31 points in his next event, he could take the next four races off and still win the Busch Series.
"It's an incredible accomplishment," Harvick said. "It's just one of those years where everything's gone our way, and the cars have been fast, and we've been able to capitalize."
Copyright 2018 The Lawrence Journal-World. All rights reserved. This material may not be published, broadcast, rewritten or redistributed. We strive to uphold our values for every story published.