Is school canceled? That's what parents and children want to know when winter weather strikes.
That decision is made by Lawrence school district Superintendent Randy Weseman and Rick Gammill, director of special operations.
Gammill said the decision is based on current weather, road conditions and the forecast. He said they take a recommendation from the district's facilities and operations staff, who check parking lots and streets surrounding the schools. The district's school bus provider also weighs in.
"We actually go out and drive the roads to determine whether or not we believe it's safe to have school," Gammill said.
He said the district's goal is to notify the public as soon as possible.
"When a decision can be made the preceding day or the preceding night, the district attempts to make an announcement, certainly, by 10 p.m.," Gammill said. "In a lot of cases, it won't be made until the morning. But our goal would be, if it were in the morning, by 6 a.m."
Cancellation or early dismissal announcements are available on the school district's Web site at www.usd497.org. They also can be found here online at the Journal-World's Web site, www.ljworld.com.
Photo Gallery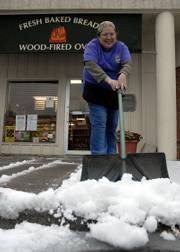 Winter weather
Gammill said most nonpublic schools, such as Bishop Seabury Academy and Veritas Christian School, call the Lawrence school district for advice. He said they tend to follow the district's lead when it comes to deciding whether to cancel classes.
If Lawrence public schools remain open, parents can opt to keep their children home, he said. They also can pick up their children early. Parents also can have a high school student leave school early to avoid bad road conditions.
The district's 2006-07 calendar allows two snow days, said Sandee Crowther, executive director of planning and program improvement and chairwoman of the district's calendar committee.
If a school district has scheduled a snow day on its calendar to make up a day missed for inclement weather, Kansas Department of Education regulations allows that day to be counted as up to two snow days taken by the district, Crowther said. She said the district has scheduled April 20 as the makeup day for two snow days.
If Lawrence's school district uses more than two snow days, the calendar committee will meet and take a recommendation to the school board to make up the time, Crowther said.
"We can add time at the end, we can take away something that we had, that's up to the board," Crowther said. "Last year we had two (snow days)."
Lawrence's school board also has a policy for the calendar to be built on 175 instructional days, she said.
Within that framework, the district has to make sure it adds up to at least 1,116 hours, which is the state minimum time for instructional hours in a year, she said.
Copyright 2018 The Lawrence Journal-World. All rights reserved. This material may not be published, broadcast, rewritten or redistributed. We strive to uphold our values for every story published.