Baghdad — A U.S. Air Force jet crashed Monday in a Sunni-insurgent stronghold west of the capital, the military said.
Al-Jazeera television showed footage of tangled wreckage of an F-16CG bearing an Air Combat Command seal and of a body it identified as the pilot. But the U.S. military said it could not confirm the pilot's fate or the cause of the crash in Al Anbar province.
Meanwhile, Iraqi President Jalal Talabani flew to Iran to seek help quelling sectarian bloodshed after bombs and mortars killed more than 200 people in a Shiite slum of Baghdad last week in arguably the worst sectarian attack of the civil war.
Thursday's series of bombings in Sadr City, a stronghold of the Mahdi Army militia loyal to Shiite Muslim cleric Muqtada al-Sadr, triggered waves of reprisal killings despite the imposition of a three-day curfew.
Police on Monday recovered the bodies of 44 Iraqis who were shot execution style and dumped in Baghdad and south of the capital, apparent victims of death squads. At least 20 others were killed in gun and mortar fire around the country Monday, among them six Shiite workers seized by Sunni gunmen in the Shourja market and later executed, police said.
In a separate aviation accident, a U.S. helicopter made a hard landing near Youssifiya, south of the capital, the military said. There were no injuries reported. Officials said there was no indication of enemy fire in the region.
Talabani, who was forced to delay his trip when Baghdad's airport closed during the curfew, landed in Tehran and headed to a meeting with his counterpart, President Mahmoud Ahmadinejad, according to his office.
Syria did not respond to an invitation to attend the meeting, which comes ahead of a summit between President Bush and Iraqi Prime Minister Nouri al-Maliki in Jordan on Wednesday.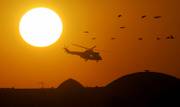 The White House expects al-Maliki to express "strong views" at the meeting about his intention to deal directly with leaders in Iran and Syria, which U.S. and Iraqi officials accuse of arming Iraq's sectarian militants.
"Their view is that the future of Iraq, if it is a subject of conversation with Syria and Iran, ought to be a conversation by Iraqis, not by others on the outside," Bush's national security adviser, Steve Hadley, told reporters Monday aboard Air Force One.
Hadley said Bush intends to reassure al-Maliki that any decisions on the way forward will be done "in a way that is cooperative with Iraq, rather than imposed on Iraq."
A bipartisan commission headed by former U.S. Secretary of State James Baker and former Senator Lee H. Hamilton is expected to recommend that the United States engage with Iran and Syria as it seeks new strategies in Iraq.
Britain, meanwhile, indicated that it plans a significant troop drawdown in Iraq. Defense Secretary Des Browne said Monday that thousands of British forces would leave by the end of next year. But he added that Britain still expected to provide backup for the Iraqi army and police.
Italy and Poland also announced they would be withdrawing their remaining troops, according to wire reports.
Gunmen also attacked a number of police patrols in the capital, killing at least nine members of the mostly Shiite force, police said.
Three mortar rounds slammed into a mixed Sunni-Shiite neighborhood, killing at least three people and injuring 15 others, officials said.
A separate mortar attack caused a large fire at a Northern Oil Co. processing plant on the edge of the northern city of Kirkuk, one of several attacks on oil installations Monday.
The country's former dictator, Saddam Hussein, listened quietly Monday as two Iraqi Kurds testified in his genocide trial, giving harrowing accounts of mass executions during a 1987-88 military crackdown on the minority group. Saddam and his co-accused have pleaded innocent to charges of crimes against humanity, which carry a possible death penalty.
Earlier this month, an Iraqi court sentenced Saddam and two other members of his regime to death by hanging for ordering the execution of 148 Shiite Muslims from the city of Dujail in reprisal for a 1982 assassination attempt.
Copyright 2018 The Lawrence Journal-World. All rights reserved. This material may not be published, broadcast, rewritten or redistributed. We strive to uphold our values for every story published.