Baldwin High senior Chris Elniff knew little about cross country when he started the sport his freshman year.
He decided to start running because he did not want to play football.
Elniff improved each year, finishing ninth his sophomore year at the Class 4A state meet, third his junior year and second this season.
"He is one of the top runners we have had," Baldwin coach Mike Spielman said. "We have had some pretty good ones come through here, so it is a nice honor to be in that top group of Baldwin runners."
His improvement resulted in Elniff being named the All-Area Boys Cross Country Runner of the Year for the second straight season. He credits much of his success to Spielman.
"When I started out, I had no idea what I was doing," Elniff said. "I didn't even know what cross country was. He just brought me from that point to where I am now."
Elniff hoped to win the individual title this season, but said he did not have enough late in the race to do so.
"I accomplished the goal that I wanted to be better, and I wanted to lead the team to get better, but we didn't get the individual or the team title," Elniff said. "We accomplished a lot. I couldn't ask for more."
Photo Gallery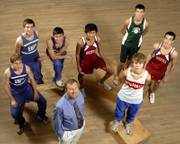 All-Area Boys Cross Country
While Elniff was in the program, Baldwin won three state titles, but finished second this season, ending a streak of eight straight state titles.
After his state finish, Elniff and his teammates felt like Baldwin had won its ninth straight title. Even De Soto's coach thought so, coming up to Elniff and congratulating him. However, when Elniff arrived at his team's tent afterward, he realized what had happened.
"When I got back to the tent, I saw everyone bummed out, and a bunch of the guys were crying," Elniff said. "I couldn't figure it out for a second. I was kind of stunned. It just kind of hit me. I didn't have as much of an emotional response like the rest of the team, but it was kind of a shock. Everyone took it kind of hard, but we got over it."
Before the season began, Elniff made a goal to make sure that those who signed up to run cross country would stay with the team throughout the season. That, in turn, made Spielman's job a lot easier.
"I have been really blessed since I have been coaching to have some really good leaders that have set the tone," Spielman said.
Elniff took an active leadership style, trying to keep the younger runners motivated by staying positive.
Running for Kansas University has always been a goal for Elniff, but he has not been contacted by KU coach Stanley Redwine. Elniff has heard from Wichita State and Emporia State, among others in Kansas, and was even contacted by Columbia University in New York.
"He is really looking at a school that will help in his field and from there maybe see if running fits into it," Spielman said of Elniff's desire to major in engineering. "I know he has always been a Jayhawk fan his entire life. I think he has the ability to get in there and run with those kids. It would be a really neat deal for him if it worked out."
Second Team
Matt Brock - Tonganoxie - Soph.
Brad Canterbury - Baldwin - Soph.
Nathan Dick - Baldwin - Sr.
Chris Dvorak - De Soto - Sr.
Colin Jokisch - De Soto - Soph.
Chris Price - Tonganoxie - Sr.
Lucas Slater - De Soto - Jr.
Copyright 2018 The Lawrence Journal-World. All rights reserved. This material may not be published, broadcast, rewritten or redistributed. We strive to uphold our values for every story published.