Photo Gallery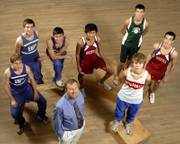 All-Area Boys Cross Country
For the past 15 seasons, Baldwin High cross country coach Mike Spielman has transformed runners who knew little about the sport into top runners in the state.
"Everything from the scoring, to the running, to the race strategy, to the pace, to the speed work, to form, is all from him," senior Chris Elniff said of Spielman. "He taught me everything."
Spielman is the All-Area Boys Cross Country Coach of the Year for the second straight season, thanks in part to Baldwin finishing second this season at the Class 4A state meet. The second-place finish, however, ended a streak of eight straight titles.
The loss was difficult for Spielman's runners, and he knew there was little he could tell his team after the race.
"You can't say a whole lot because they ran well, and they gave themselves a chance to win," Spielman said. "That is all you can ask for."
Elniff ended his career on a disappointing note, but Spielman was there to congratulate him after his second-place individual finish.
"He is pretty much the best coach you could ever have," Elniff said. "He is really supportive. He is just a really good guy. He doesn't yell at us. You know that he knows what he is talking about. You just want to do good for him."
Baldwin has practiced the same way for 15 years under Spielman, which he credits to the team's success.
"We may have some years that we might not be as talented as some other years, but we go through the same process," Spielman said.
Spielman plans next season to continue the same process and hopes to recapture the team's success of winning state titles.
"We are going to do the same types of things and keep going about it the same way," Spielman said. "The kids have been around the championship teams, so the kids understand what it takes."
Copyright 2017 The Lawrence Journal-World. All rights reserved. This material may not be published, broadcast, rewritten or redistributed. We strive to uphold our values for every story published.