Gaza City, Gaza Strip — Rocket fire from Gaza died down Sunday after a daybreak cease-fire, raising hopes for an end to five months of bloody destruction and a new opening toward peace talks.
The surprise truce was supposed to take effect at 6 a.m., but in the four hours that followed, 11 rockets were fired from Gaza at Israeli towns and villages and some Palestinian militants threatened to keep up the attacks.
Israel did not retaliate, saying it wanted to give the truce a chance.
"Even though there are still violations of the cease-fire by the Palestinian side, I have instructed our defense officials not to respond, to show restraint, and to give this cease-fire a chance to take full effect," Prime Minister Ehud Olmert said during a ceremony at a high school in southern Israel.
Rivals Hamas and Fatah, the two main factions in the Palestinian government, also publicly backed the truce and by nightfall it appeared to take hold. Palestinian Prime Minister Ismail Haniyeh of the ruling Hamas movement said he had contacted the leaders of all Palestinian factions Sunday and they reassured him they were committed to the cease-fire.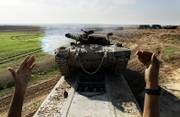 Palestinian President Mahmoud Abbas of Fatah, who has been pressing for a reopening of peace talks with Israel, ordered his security forces to patrol the Gaza border Sunday to stop rocket attacks. Security officers fanned out across northern Gaza, taking up positions at major intersections with orders to stop anyone suspicious and the salvos stopped by the afternoon.
"The instructions are clear. Anyone violating the national agreement will be considered to be breaking the law," said Lt. Gen. Abdel Razek Mejaidie, Abbas' security adviser.
If the truce holds, it would be a coup for Abbas, who has been trying for months to end the violence in Gaza that has killed 300 Palestinians, scores of them civilians, and five Israelis.
Israeli Foreign Minister Tzipi Livni stressed the need to follow the truce with diplomatic steps.
"History teaches us that if this kind of cease-fire with the Palestinians isn't accompanied by something else, it will deteriorate," she said.
The cease-fire was worked out late Saturday night when Abbas called Olmert with an agreement from Palestinian militant groups to halt rocket fire and other violence from Gaza.
Olmert pledged in turn to end the military offensive Israel launched in June after Hamas-linked militants from Gaza captured an Israeli soldier in a cross-border raid. The soldier has not been seen since, but Hamas' leader said Saturday he is still alive.
Copyright 2018 The Associated Press. All rights reserved. This material may not be published, broadcast, rewritten or redistributed. We strive to uphold our values for every story published.