"Crafts with a conscience" might be one way to describe the scarves, sculptures, purses and jewelry that Lawrence residents Brady Swenson and Alicia Erickson are selling on the Internet.
Swenson and Erickson, who are husband and wife, early this month launched a Web site called Two Hands Worldshop, which sells handmade goods from around the world that are certified "fair trade" by the Washington, D.C.-based Fair Trade Federation. The certification means that producers are paid at least the minimum wage for their country, gain access to credit and work in settings that aren't large-scale factories or sweatshops.
For example, some of the purses Swenson and Erickson sell are made by Teddy Exports, a company in southern India. It employs more than 300 workers who receive benefits including free medical care, according to the company's Web site. Profits from the business go to a foundation that benefits education and health in the community.
"The marketplace is set up by powerful economies. Often that means putting these small producers at a further disadvantage - no access to banking or credit," Swenson said. "I think the goal of fair trade is to try to adjust the marketplace in their favor."
Hopes are high
Swenson and Erickson both are 27-year-old Kansas University graduates in English who went to high school at Washburn Rural in Topeka. They found the inspiration for the business during visits to an open-air market in the South American country of Guyana, where Swenson taught English through the Peace Corps and Erickson developed an after-school art program between 2003 and 2005.
Photo Gallery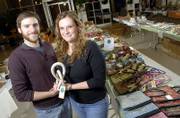 Two Hands Worldshop
Their Web site, twohandsworldshop.com, launched Nov. 1. So far, sales have been steady, Swenson said, and they plan to open a store next year in downtown Lawrence. He said their prices were comparable to products that don't follow fair-trade guidelines.
"I have high hopes for it. I think already we have one of the best sites in the industry," he said. "We want to make it our careers eventually."
For their day jobs, Swenson is director of search engine marketing at Pilgrim Page advertising agency, 729-1/2 Mass., and Erickson is office manager for KU's Legal Services for Students.
They are among the vendors taking part this week in the Fair Trade Holiday Market at Ecumenical Christian Ministries, 1206 Oread Ave. It began Friday and ends Thursday.
Expanding market
Fair trade is a growing business: A report last year from the Fair Trade Federation found there were $291.7 million in fair-trade sales in 2003, a 52 percent increase from the previous year. Coffee beans make up the biggest portion of those sales, but the report found that "increases in the sales of jewelry, gifts, handcrafts : and textiles" also are contributing to the growing market.
Chris Brown, a KU assistant professor of geography and environmental studies, views it as a good thing that fair trade can get consumers thinking about the conditions under which products are made. Price guarantees are the one of the most tangible benefits producers get under a "fair trade" model, he said.
"You're establishing longer-term relationships between buyers and sellers that they don't normally have," he said.
Still, Brown looks at the concept of "fair trade" critically. For one, despite the certification, there's no way for buyers in the United States to know exactly what working conditions are like on the other side of the world.
"To really know that, you would actually have to go and live with these people and work in the field with them, work in the conditions they work under, get paid what they get paid," he said.
Also, he said, the movement doesn't question the need to consume the products in the first place.
"It doesn't do anything to alter the hyperconsumerism that we live in today," Brown said. "Perhaps that would be the most useful thing for the environment and for people."
Copyright 2017 The Lawrence Journal-World. All rights reserved. This material may not be published, broadcast, rewritten or redistributed. We strive to uphold our values for every story published.