It was perfect timing. I was drooling over the newspaper advertising inserts for electronic items when Bonnie asked my favorite question of the year.
"Dad, what do you want for Christmas?"
A big-screen plasma HDTV was the first thing that came to mind. It has been at the top of my wish list for about six years.
But before blurting it out, I decided to take a look at some electronic gifts that a college student might be able to afford.
Toys "R" Wii
It has been a couple of years since my son Matt left home to seek fame and fortune. And without him around, the family gaming console is in need of an update.
I've been following the buzz about the new PlayStation 3 and the Xbox 360.
But Bonnie's boyfriend, Arna, steered me in another direction: Nintendo's new Wii.
What seems most appealing about the Wii is the motion sensor controller, which lets you simulate hitting a baseball, a tennis ball or a golf ball while you play a sports game.
And at $249, it seems a little more affordable than the other gaming consoles (about $600 for PS3, $400 for Xbox 360), especially for a sometimes-gamer like me.
Speaking of interactive games, I noticed the Hammacher Schlemmer catalog has a Star Wars Interactive Light Saber game. It comes with a light saber and a "trainer" that detects the motion you make with the light saber. The trainer plugs into your TV, which shows how you're doing in battle against Jango Fett, Emperor Palpatine and Darth Vader ($59).
Be careful no one has a video camera while you're in action - you might end up being the next Star Wars kid Internet phenom.
And then, there are the video game chairs that are out on the market.
A consumer model is the X Rocker II (about $100), which is compatible with most gaming systems. Sitting in the chair, you feel more as if you're a part of the game, thanks to the large speaker embedded behind you in the chair and the two on each side of the headrest.
If that's not enough, a top-of-the-line model is the Ultimate Game Chair, which looks like a leather recliner on steroids.
Available Dec. 10, the $400 Ultimate model has joysticks coming out of the armrests, built-in speakers, vibration motors in sync with the games, headphone jacks, beverage holders and something called ground-effects lighting. It looks like it's compatible with just about every game console, as well as Windows and Mac computers.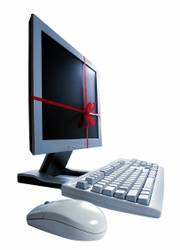 Tuning in
Just when you think there aren't enough iPod products out there, another one surfaces.
What caught my eye recently was the iKaraoke, which "sends the music from your iPod to your stereo minus the lead vocals, so you can step up to the mic and sing the lead in your favorite tunes," according to Griffin Technology, the manufacturer. It's supposed to be available sometime next month. The price wasn't listed, but most Griffin products are under $50.
Storm power
Remembering how my neighborhood was without power for several hours following the March 12 microburst in Lawrence, this item caught my attention: a Black & Decker Storm Station (about $90).
It's equipped with a 12-volt rechargeable battery, a high-powered room light, an AM/FM/TV audio tuner, a 12-volt recharging port for cell phones, two outlets that will provide 25-watts of power, a locator light and a detachable flashlight.
Brewing up a storm
If you can't get started without a cup of coffee and a weather forecast, Melitta has combined the two in a 10-cup coffee maker ($200).
The coffee maker, which not only brews but also grinds coffee, has a unique feature: a 3-inch square LCD display that shows updated weather 24 hours a day from MSN Direct. The weather info comes in through an FM signal, so there's no charge for a subscription.
Getting the goods
"Dad, you're too hard to buy for," Bonnie said, getting ready to leave. "You always want things that are too expensive."
"You mean like a big-screen plasma TV with 5.1 Dolby surround-sound?" I asked.
"Yeah," she said. "And flying cars."
I laughed. Maybe she was right. I should put away that longtime list item with the $500,000 Moller M-400 Skycar.
I guess I could always use another necktie combo.
Hmm. I could ask for a Nano-Tex, stain-resistant tie ... with a built-in MP3 player/video phone that can control all the lights in my house.
I went out to tell Bonnie. But she had already gone out shopping.
Copyright 2018 The Lawrence Journal-World. All rights reserved. This material may not be published, broadcast, rewritten or redistributed. We strive to uphold our values for every story published.