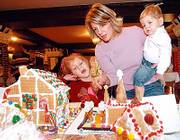 When it comes time to stuff invitation envelopes, Becky Price knows that the year's Big Brothers/Big Sisters Gingerbread House Auction is drawing near.
And though the task is not the most fun part of planning the event, Price has help and makes a night out of it.
"We're only doing 1,400," says Price, regional director of Big Brothers/Big Sisters. "Our guest list used to be about four times that."
And though the invitations used to be hand-addressed, this year practicality trumped personality. The event, one of two annual fundraisers for the nonprofit, has grown steadily over the past several years. Entrants build gingerbread houses out of either graham cracker or traditional gingerbread, which are displayed for several days before they are sold at auction.
The neighborhood of candy houses has become a holiday favorite, and it enters its 12th year this winter. Even the snowstorm that seems to plague the event every year didn't prevent a full house last year.
"Even last year we were pretty much at capacity," Price says of last year's event. "People could just barely get out; you pretty much needed four-wheel drive."
This year the Eldridge Hotel, which has traditionally donated the space for the gingerbread auction, hoped to give the organization the use of its newly renovated Eldridge Extended facility, but fell behind schedule. The Gingerbread House Auction will return to its previous space in the Eldridge's Crystal Ballroom for one more year.
Past Event
When: Wednesday, December 6, 2006, 7 p.m.
Where: The Eldridge Hotel, 701 Mass., Lawrence
-->
-->
But the Eldridge's generosity, despite the delay, is yet another reminder to Price about the commitment the event gains from the community.
"For us to be successful, we have to have our community invested in and support us," Price says, adding, "The community support is always just fabulous. I think we live in the best town in the world, personally."
Though this year won't herald the unveiling of the new venue for the Gingerbread House Auction, it is the first time around for one Big Brothers/Big Sisters duo.
Suni Haberland, Kansas University junior, a "big"in the program who is teaming up with her "little," Bianca Barnes, Woodlawn School third-grader, to craft a gingerbread house for the competition. Despite their lack of experience, Haberland is confident they'll take first place.
"We're going to have the best house there is," Haberland says, adding that she wanted to build a house like those from the "Grinch Who Stole Christmas."
"I want something very cool - something that will win," Haberland said.
Haberland, who lives and serves as community service chairwoman in the Rieger Scholarship Hall, decided to promote Big Brothers/Big Sisters to her hallmates by joining the program herself.
She says she and her "little" haven't finalized their design yet, partly because Barnes is still coming up with ideas.
"She doesn't have any yet, but I'm sure when we walk down the Wal-Mart aisle for all the good candy, she'll have tons," Haberland said.
Barnes does know at one thing about the design: what she'll use for decorations.
"I'm going to put some candy corn on it or M&Ms;," Barnes said, adding, "My favorite candy is candy corn."
But whatever the final design, Haberland looks forward to sharing a new learning experience with her "little."
"I'm slightly concerned because I don't know how to make real gingerbread," Haberland said. "It's going to be a challenge."
Copyright 2018 The Lawrence Journal-World. All rights reserved. This material may not be published, broadcast, rewritten or redistributed. We strive to uphold our values for every story published.