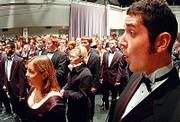 When Amy Luckenbill remembers Kansas University vespers, she reminisces about the thrill of conducting and the joy of singing. But her favorite memories are set backstage, where the energy truly peaked.
"We all will stand around and dance backstage while the orchestra is playing 'The Nutcracker Suite,'" Luckenbill says. "There's just such camaraderie and excitement among that group of people backstage."
Even when groups were onstage and performing, Luckenbill, who earned her master's and doctoral degrees in music from KU, found a certain breach of concert protocol absolutely irresistible: She just had to steal peeks of the brimming audiences.
"The conductors are all kind of standing in the back and watching from the wings," Luckenbill says. "You know, you're not supposed to do that - you're not supposed to peek your head out - that's, you know, theater rule number one. But we do, because we're so excited."
KU Vespers is a tradition entering its 82nd year this fall, and one of several local holiday performances, alongside those of Baker University and the Lawrence Civic Choir, that have become season favorites. But it's sometimes hard to balance the legacy against innovation and keep the programs fresh. But each is finding its own way to find new horizons for old traditions.
Holiday highlight
John Paul Johnson, director of choir studies and professor of music and dance at KU, manages the repertoire of the KU Vespers program. It takes care and consideration, but it's a responsibility that Johnson cherishes.
"I have to say it's a big reason why I came to KU," Johnson says. "I wanted to be at a school that is steeped in tradition - and vespers is certainly one of the biggest traditions here, with this being the 82nd vespers. My gosh. I'm just glad to be a part of it."
This year, Johnson has arranged a special program to highlight the similarity of winter music traditions from all over the world.
"That is what I'm trying to show: We celebrate our various holidays all with the same spirit," Johnson says. "There is more unity than there is division around the world."
Johnson said programming this year's vespers was unusual because he built the repertoire backward. He came across one of the highlight pieces at a convention of the American Choral Directors Assn. in St. Louis. After being particularly touched by an arrangement of Sibelius' peace hymn "Finlandia," Johnson realized it was a piece that was particularly well-suited to wintertime in Lawrence.
"It was the most gorgeous setting of that piece of music, and here's the whole audience just weeping because it's just so beautiful," he says.
The power of the vespers is familiar magic to Johnson, who knows many students share the excitement Luckenbill felt backstage. But this year he's noticed that the spirit is already gathering strength.
"As the students are flipping through their folders and looking at the music they're going, 'Alright! Cool!'" Johnson said. "We don't always have this reaction. They're really just pumped for it this year."
Even Johnson can't hide the fact that he thinks this year's will be a special vespers.
"If you want to hear a program of absolutely gorgeous, exciting music, this is the year," Johnson said.
Though Luckenbill graduated this summer, she's still excited about the arrival of vespers season - and passing the tradition to her 6-month-old son.
"That's a family tradition that needs to start young," Luckenbill said. "Now I look forward to 30 years from now when he's telling his kids, 'We went to vespers every year and it was the highlight of our holiday.'"
Multimedia messiah
Lawrence Civic Choir has found a new creative outlet for its annual program, which has a new location this year. The program has moved to Free Methodist Church, where a large screen in the sanctuary has inspired some holiday creativity.
Diana Fry, a member of the choir who also belongs to the church, realized that the screen presented a new opportunity for the program.
"The church is a beautiful church, but when the screen is blank, it's blank. It just doesn't look good," Fry said.
Fry came to the choir's board of directors and suggested they form a committee to find holiday art that would complement the performance that could be projected on the screen. But Fry is quick to explain the images aren't particular to one faith.
"We're using a lot of stained-glass windows. We figure it's just like going to museum, in that each viewer will take from it what he sees in the piece," Fry said.
Steve Eubank, director of the choir, thought it was a great idea for using the space.
"It's very tastefully and very judiciously done. It's not a slideshow accompanied by music - it's not death by PowerPoint," Eubank said. "It's something I think that will enhance the listeners' experience.
"It will give them something to contemplate."
Eubank is particularly looking forward to the program this year, and in utilizing the new space.
"The program itself is going to be a wonderful collage of music of the season," Eubank said. "That's a very fresh and very interesting approach to the whole concept around the miracle of Christmas.
"It's a great way to celebrate the holiday is in the season, and I think there'll be something for everyone on the program."
Traditional tidings
One of the local programs with the longest and strongest roots is the Baker University vespers. John Buehler, chairman of the Baker music department, said he feels a deep responsibility to keep the program true to its legacy. It's a challenge to keep the program fresh without dropping traditional pieces from the repertoire.
"I know that it better be good, and I know that I better not screw around with it very much," Buehler said. "For me the enjoyment is in guiding the new students through learning the repertoire and seeing the returning students see the pieces with a different eye."
Vespers is a cultural affair that bridges the gap between alumni, current students and incoming students at Baker, Buehler said.
Patrick Lattin, a fifth-year senior at Baker, will perform in his last vespers this year, but he can still remember what it was like as a freshman.
"It's a really unique experience," Lattin said. "For people who've been through it before it's always really nice to come to every Christmas season, and for people that are new it's something that is really amazing."
One of Buehler's favorite aspects every year is watching his students develop new meaning for the music. Through the years, the music takes on greater significance, he said.
"I really have been surprised about the meaning of the event for the kids with regard to the repertoire," Buehler said.
But the greatest moments are those when the division between incoming students, graduating students and graduates is truly overcome by the power of the holiday vespers.
"Every year some kid in the groups comes up to me and says, 'I just met a lady who was in this 60 years ago,'" Buehler said. "And that happens often, not just to one student, but to a number of them.
"It's something that transcends all the generations."
Copyright 2018 The Lawrence Journal-World. All rights reserved. This material may not be published, broadcast, rewritten or redistributed. We strive to uphold our values for every story published.