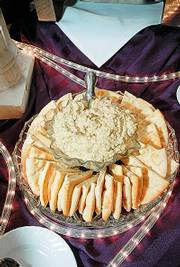 Robert Scoular has a simple rule when it comes to holiday entertaining.
"You make your guests feel comfortable," says Scoular, executive chef at Kansas University's Memorial Unions. "If you're stressed out because you're doing all this stuff, you're not a very good host. If you're stressed out, your guests will be."
That means finding appetizers and other party snacks that aren't too complicated to make - or that can be made in advance of your party or dinner.
We asked Scoular and employees at Maceli's, a catering business at 1031 N.H., for their suggestions for quick-hit holiday treats. Here are 10 suggestions for easy seasonal starters:
1. Spinach-artichoke dip: Kyle Rowe, a Maceli's cook, says it's just a matter of mixing together spinach, cream cheese, artichokes, garlic and mozzarella and parmesan cheeses.
"This is just mix it together and put it in the oven," Rowe says.
2. Tortilla rolls: A quick appetizer - and perennial party favorite - is the tortilla roll. Just mix up your favorite concoction, spread it on a tortilla and roll it up. Refrigerate, then cut the roll into bite-size segments.
Erik Frederickson, a Maceli's cook, says pimento and turkey, and tomato and provolone, are among the company's offerings.
3. Stuffed mushrooms: Just take the stem off and add a mixture of whatever you want inside. Spinach, cream cheese, dill, mozzarella and Italian seasonings work well, Frederickson says. Then, dip the mushrooms in garlic butter and bake them on a cookie sheet.
4. Cheese or vegetable tray: This time of the year, it's tough to find good-quality fruit that doesn't break the bank. So Frederickson suggests going the cheese or veggie tray route.
Buy pre-cut cheese cubes to cut down on your work. Or buy blocks of cheese, cut off a few cubes to get it going and let your guests cut their own cheese after that.
5. Antipasto skewers: Stephen Maceli, who owns Maceli's, suggests taking colorful stir sticks for party drinks and making kabobs. You could use pickles, olives or pickled vegetables.
6. Dipping chocolates: For a sweeter option, buy pre-made dipping chocolates and keep them heated in the crock pot. Maceli suggests pretzels and bananas as popular dippers.
7. Peppermint candy corn: For another sweet treat, Scoular recommends popping popcorn without oil, but add peppermint candy.
8. Spicy nuts: Scoular suggests taking mixed nuts and adding spices, such as cayenne, to give them a little zip. Cook them in the oven, but be sure not to let them burn.
You could add shaved fresh coconut if you want, he says.
"You get a little pop with the nuts," he says. "It makes a nice little mix people aren't used to."
9. Crispinis: Cut a baguette in 1/4-inch-thick slices, perpendicular to the length of the bread. Lightly butter it, then toast it in the oven. Scoular suggests topping it with tomato and olives, or pesto with a shrimp.
10. Stuffed phyllo leaves: Cut phyllo leaves in 4-inch or 5-inch squares. Layer them with butter in a small muffin tin, until they're three or four layers thick.
You can fill them with just about anything, Scoular says. He recommends bleu cheese and walnuts, or chopped spinach, tomato, onion, garlic, olive oil and feta cheese. Cook it until the phyllo leaves are crisp.
Maceli suggests making as much as possible in advance and relying on convenience products such as ready-made meatballs when possible.
"You can't cook and be a good host or hostess at the same time," he says.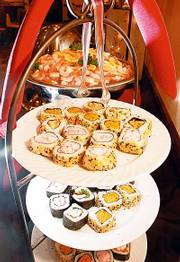 Cranberry cocktail meatballs
2 pounds ground beef
1 cup corn flake crumbs
2 eggs
1/4 cup chopped, fresh parsley
1/3 cup ketchup
1/4 cup minced onions
2 tablespoons soy sauce
1/4 teaspoon garlic powder
1/4 teaspoon pepper
1 can (16 ounces) cranberry sauce, jellied or whole cranberry sauce
12 ounces chili sauce
1 tablespoon brown sugar, firmly packed
2 teaspoons lemon juice
In a large bowl, combine ground beef, corn flake crumbs, parsley, eggs, ketchup, onion, soy sauce, garlic powder and pepper. Blend ingredients well and form into small balls, about 3/4-inch in diameter. Place in a casserole or baking pan. Heat oven to 300 degrees. While meatballs are cooking, combine cranberry sauce, chili sauce, brown sugar and lemon juice in a saucepan. Cook, stirring, over medium heat until mixture is blended. Pour hot sauce over meatballs in casserole. Bake for about 45 minutes, depending on the size of the meatballs. Transfer to crockpot and keep on low for serving. Makes 4 to 5 dozen meatballs, depending on size.
Source: www.southernfood.com
Hummus
2 cloves garlic - roughly chopped
1/4 cup lemon juice
1/4 cup water
14 ounces canned chickpeas (garbanzo beans) - rinsed and drained
1/2 cup tahini
1 teaspoon sea salt
Place all ingredients in a food processor or blender and process until smooth, scraping the sides occasionally. For a spicier hummus, add a small red chili, pinch of cayenne pepper, or cumin. Serve with pita.
Source: www.mediterrasian.com
Shrimp cocktail tomatillo-horseradish sauce
12 tomatillos, husked, washed, and cut in half
1 large red onion, coarsely chopped
4 cloves garlic, chopped
2 jalapeno peppers, chopped
2 tablespoons canola oil
Salt and freshly ground pepper
3 tablespoons white wine vinegar
2 to 3 tablespoons honey
1/4 cup prepared horseradish, drained
1/2 cup chopped cilantro leaves
Preheat oven to 400 degrees. Place tomatillos, onion, garlic and jalapeno on a half-sheet pan, toss with the oil and season with salt and pepper. Cook until the mixture is soft, but do not allow it to color, about 15 to 20 minutes. Transfer to a food processor and process until smooth. Add the vinegar, honey, horseradish and cilantro and pulse just to combine. Season with salt and pepper. Scrape into a bowl, cover, and refrigerate for at least an hour before serving.
Source: www.foodnetwork.com
Tortilla roll-ups
12 (14-ounce package) flour tortillas
8 ounces cream cheese, softened
1 cup sour cream
(4-ounce) can chopped green chiles
3 tablespoons chopped green onion
2 tablespoons finely chopped red bell pepper
12 ounces sharp Cheddar cheese, grated
1 cup salsa or picante sauce
In a medium bowl, combine cream cheese, sour cream, chilies, onion, red bell pepper and cheddar cheese. Mix thoroughly. Spread onto tortillas and roll up. Cover tightly and chill for 2 hours or overnight. When ready to serve, cut each roll into 1/2-inch slices. Serve with salsa or picante sauce. Makes about 8 dozen pieces of tortilla roll-ups.
Source: www.southernfood.com
Mexican confetti pinwheels
1 (8 ounce) can refrigerated crescent dinner rolls
1/4 cup nacho cheese dip
1/3 cup finely chopped red pepper
1/3 cup chopped green onions
Heat oven to 350 degrees. Unroll dough and separate into four rectangles; firmly press perforations to seal. Spread cheese dip over each rectangle to within 1/4 inch of edges. Sprinkle with bell pepper and onions. Starting with one short side, roll up each rectangle; press edge to seal. With serrated knife, cut each roll into six slices; place cut side down on ungreased cookie sheet. Bake 13 to 17 minutes or until edges are golden brown. Immediately remove from cookie sheet. Serve warm.
Source: www.allrecipes.com
Mini quiches
1 pkg. refrigerated pie crust
1 large portabello mushroom
8 ounces button mushrooms
2 tablespoons butter
1 tablespoon olive oil
1/2 cup whipping cream
1 egg
1/4 teaspoon salt
1/8 teaspoon cayenne pepper
1 cup shredded Swiss cheese
Let pie crusts stand at room temperature for 20 minutes, then gently roll out to 12-inch circles. Wipe mushrooms with damp cloth and chop in food processor or with chef's knife. Place butter and olive oil in a medium skillet and cook mushrooms over medium heat until all liquid is evaporated and mushrooms are brown and tender.
Preheat oven to 375 degrees. Grease 2 dozen 1 3/4-inch muffin cups. Using 3-inch cookie cutter, cut 24 circles from pie crust (12 from each crust), rerolling crusts if needed. Press into prepared muffin cups. Divide mushrooms evenly among lined cups. In small bowl, combine egg, cream, salt and cayenne pepper and beat well. Pour egg mixture over mushrooms; 2 teaspoons per each muffin cup. Sprinkle each with grated cheese. Bake at 375 degrees for 18-20 minutes or until center of quiches is set.
To serve warm, cool five minutes before removing from pans. To freeze, cool on wire rack and freeze in single layer until solid. Place in air tight freezer container in single layer. To reheat, place frozen quiches on cookie sheet and bake at 350 degrees for 12-14 minutes until hot. Makes 24.
Source: busycooks.about.com
Potato latkes
2 pounds russet (baking) or Yukon Gold potatoes
1 medium onion
1/2 cup chopped scallions, including the green part
1 large egg beaten
Salt and pepper to taste
Vegetable oil for frying
Peel potatoes and put in cold water. Using a grater or a food processor coarsely grate the potatoes and onions. Place together in a fine-mesh strainer or tea towel and squeeze all the water over a bowl. The potato starch will settle to the bottom; reserve that after you have carefully poured off the water. Mix the potato and onion with the potato starch. Add the scallions, egg, and salt and pepper. Heat a griddle or non-stick pan and coat with a thin film of vegetable oil. Take about 2 tablespoons of the potato mixture in the palm of your hand and flatten as best you can. Place the potato mixture on the griddle, flatten with a spatula, and fry for a few minutes until golden. Flip the pancake over and brown the other side. Remove to paper towels to drain. Serve immediately. You can also freeze the potato pancakes and crisp them in a 350-degree oven at a later time.
Source: www.foodnetwork.com
Creamy artichoke dip with pita chips
2 8-ounce packages cream cheese, room temperature
1/3 cup sour cream
1/4 cup mayonnaise
1 tablespoon fresh lemon juice
1 tablespoon Dijon mustard
1 garlic clove, minced
1 teaspoon Worcestershire sauce
1/2 teaspoon hot pepper sauce
3 6-ounce jars marinated artichoke hearts, drained, coarsely chopped
1 cup grated mozzarella cheese (about 2 1/2 ounces)
3 green onions, finely chopped
2 teaspoons minced seeded jalapeno chili
6 6-inch pita rounds, each cut into 6 triangles
Olive oil
Using electric mixer, beat first eight ingredients in large bowl to blend. Fold in artichokes, mozzarella cheese, green onions and jalapeno. Transfer to 11-by-7-by-2-inch glass baking dish. (Can be made one day ahead. Cover and refrigerate.)
Preheat oven to 400 degrees. Place pita triangles in single layer on baking sheet. Brush with oil. Sprinkle with salt. Bake until crisp, about 10 minutes. Remove from oven. Maintain oven temperature.
Bake dip until bubbling and brown on top, about 20 minutes. Serve hot dip with pita chips.
Source: www.epicurious.com
Sweet and Spicy Snack Mix
3 cups pretzel sticks
3 cups square-shaped cheese flavored crackers
3 cups wheat cereal squares
1 1/2 cups mixed nuts
1/2 cup butter or margarine, melted
1 tablespoon chicken-flavored bouillon granules
3 tablespoons firmly packed brown sugar
1/4 teaspoon ground red pepper
Heat oven to 250 degrees. Combine pretzels, crackers, cereal, and nuts. Spread mixture onto a 15-by-10-by-1-inch jelly roll pan. In bowl, combine butter, bouillon, brown sugar and ground red pepper. Pour over cereal mixture; stir to coat. Bake for 1 hour, stirring every 15 minutes. Remove from oven and cool. Makes about 101/2 cups. Store mixture in airtight container.
Source: www.hormel.com
Copyright 2018 The Lawrence Journal-World. All rights reserved. This material may not be published, broadcast, rewritten or redistributed. We strive to uphold our values for every story published.