It began to look a lot like Christmas Friday night in downtown Lawrence.
Holiday music played in the background. Shoppers strolled the sidewalks. And at Ninth and Massachusetts streets a crowd of parents and wide-eyed children gathered to await the arrival of Santa Claus.
Just as in years past, Santa made his pre-Christmas trial run into town by magically appearing on the roof of Weaver's Department Store.
Among those waiting for that appearance was 6-year-old Jocelyn Lilienkamp, who was still trying to make up her mind about what she would tell Santa she wanted for Christmas.
"I don't know," the little girl said, shrugging as she sat with her parents, Brian and Emily Lilienkamp.
While Jocelyn was undecided, her father wasn't. "We want a national championship for KU basketball," he said.
Jocelyn wasn't the only child still making her Christmas wish list. So were 7-year-old Iris Isaacs and her 5-year-old brother, Sage.
"It changes every day," their father, John Isaacs, said. "They see all this plastic stuff on TV."
Moments later sirens sounded as two police cars escorted Quint 1, the city's new red fire truck, to Weaver's. Firefighters put up a ladder and brought Santa down to ground level where he was swarmed by children.
Photo Gallery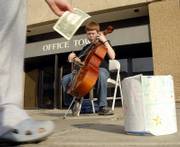 Downtown for the holidays
As he made his way through the crowd, Santa stopped briefly to chat with 2-year-old Easton Elliott, who was sitting on the shoulders of his father, J.B. Elliott. Santa did most of the talking as the open-mouthed boy just stared and listened.
"He's seeing Santa for the first time," J.B. Elliott said. "He's a little shy right now."
Santa sat in a chair on the sidewalk in front of US Bank and began taking a stream of Christmas gift orders from children who had their lists prepared. One of them was Cameran Elder. The 4-year-old Lawrence boy was accompanied by his aunts, Karen Hall and Becky Hall.
"He wants action figures and some ninjas," Becky Hall said.
A band called Trailmix, made up of Lawrence and Free State high school students, played Christmas music on a stage behind Santa as parents and children waited in a line that stretched about a block and slowly kept moving toward him.
The holiday festivities began earlier in the afternoon as local choral groups and a 4-H band provided music in the 700 and 800 blocks of Massachusetts. The Salvation Army also officially launched its annual holiday Kettle Kickoff. Although bell-ringing volunteers are already manning kettles at locations throughout the city, Friday's festivities bring an opportunity to draw more attention to them, Salvation Army commander Wes Dalberg said.
Copyright 2018 The Lawrence Journal-World. All rights reserved. This material may not be published, broadcast, rewritten or redistributed. We strive to uphold our values for every story published.