Laura Ramberg needed a model for one of her ceramic art pieces. A scaly, slithering model.
"I was walking around the farm going, 'Where are the snakes? Where are the snakes?' After two days of this I realized what I was saying. They were probably going to appear in my bed and my closet and my shoes," Ramberg says.
Fortunately for the artist, a "benevolent black snake" stuck its head out of a hole just long enough for her to be able to mimic his middle section.
"Snakes are a theme in my work. I seem to be asked to do bears a lot. Right now I really like dogs," she says while walking the grounds of her eclectic rural house and studio north of Lawrence.
Ramberg used to be employed at a wildlife rehabilitation facility and says she became close to many of the animals. She points to a few ceramic owls that resemble a former feathered patient.
"A lot of my work is animal-oriented, and the rest of it seems to be female-oriented. I was realizing how inspired I am by strong women," she says.
Case in point: Ramberg is one of 130 artists to be featured at Saturday's Bizarre Bazaar. She's one of the "founding moms" who helped launch the grass-roots tradition 17 years ago that features original hand-crafted specialty items.
"It's grown a lot but the intention is still the same: It's a nonpressure art forum to share your work and not be judged," she says.
Is being judged a problem for Ramberg?
"I can take it or leave it," she replies.
Photo Gallery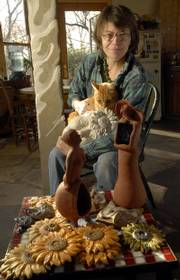 Bizarre Bazaar
Her colleagues in the art scene have no trouble appraising Ramberg's endeavors.
"She makes art that is about the natural world. Whether it's popular or not, she just keeps doing it. She does it very well," says Dixie Lubin, a "surrealistic folk artist" who is also one of the founders of the Bizarre Bazaar.
"She is willing to buck the current in other ways, too. At one point she did a Christ figure for St. John (Catholic church), and she made it short and Hispanic. A lot of the people were very upset. Other people loved it. She follows her own inner vision, and she does it beautifully."
Out on the tiles
Ramberg will be showcasing her ceramic and bead pieces at the Bizarre Bazaar. But she is hardly limited to these areas of expertise. She is also adept at carving stone, carving wood and casting bronze.
"I started out in ceramics making tile because I wanted tile at my house. Then I taught myself to be able to install tile because I wanted to install my own work," she says, pointing to an ornately tiled section of the floor below her kitchen sink.
Lately, she has taken a part-time job at Prairie Pond Studio and Bead Co., 809 Mass.
"Working with beads in colors in patterns is very much like working with tile," the 50-year-old artist says.
She has also spent the last nine years employed by Douglas County Youth Services teaching art at the juvenile detention center.
"When I'm working on my art, I'm working alone. Then you're maybe connecting to the people who have asked you to do the work. But when you're teaching that's when you really connect with people," she says.
Jumping-off places
The Missouri native came to Lawrence to go to Kansas University, earning a degree in sculpting in 1981.
She learned a great deal at college about the mechanics of her craft, but "wished they'd taught me a little bit more about how to survive in art," she says.
Apparently she figured that out on her own, as much of her income is courtesy of commissioned pieces from local and national patrons, both private and high-profile. (Her efforts can be seen at various campuses throughout the country or at local haunts such as Wheatfields Bakery, 904 Vt.)
"A lot of the work that I do takes time. So I can have a stone-carving project that may take me eight weeks," she says referring to a pair of 7-foot limestone mantels she recently tackled.
"It feeds my own work also. I can use it as a jumping-off place. For me, the best work makes itself. I kind of get out of the way. It's not about me; it's about the work."
Ramberg says she occasionally finds time for personal artistic statements, as witnessed by the nose ring she installed last year.
"My girlfriend talked me into it. She said, 'We've got to do something wild before we turn 50!' This was the only thing we could think of that we hadn't already done."
Copyright 2018 The Lawrence Journal-World. All rights reserved. This material may not be published, broadcast, rewritten or redistributed. We strive to uphold our values for every story published.