A Lawrence man convicted of exposing three women to HIV received a 32-month prison sentence Wednesday.
But Robert W. Richardson II told the judge that putting him behind bars won't do any good.
"He does not care if he spreads his disease," one of Richardson's victims wrote in a letter that was read aloud in court. "He created a false reality that he could not transmit HIV, which rationalized his actions."
Another of the victims said, "The stove was hot and he decided to throw caution to the wind and touch it anyway."
Last month jurors found the 30-year-old Richardson guilty of four counts of HIV exposure involving three women. He was found not guilty of exposing a fourth woman.
Judge Stephen Six ordered him to serve 32 months in prison on one of the charges. For the three others, he ordered 56 months of probation with an underlying sentence of four years in prison if he violates probation.
But Richardson faces the possibility of still more prison time.
Another woman has charges pending against Richardson in Johnson County, Mo., and Richardson has cases pending against him in Emporia and Kansas City, Kan., involving some of the same women from his Douglas County trial.
Richardson apologized to those he had "touched with fear" during a speech before he was sentenced. But he said that while his actions might have been unethical, they were not criminal.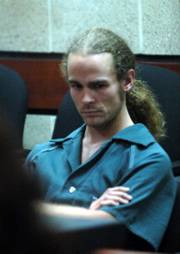 "I was wrong to hide from those I cared about and wrong to make safety decisions for them," he said. "Fighting to put me in a cage will do far, far more harm than good."
His attorney, Thomas Johnson, argued for probation, claiming that none of the women was "seriously injured" because they all have tested negative for HIV. He also said they engaged in "reckless sex."
"It takes two to tango, so to speak," he said.
Victims said they were offended by the suggestion that they weren't harmed. Assistant District Attorney Amy McGowan said, "injury isn't just physical."
At trial, jurors said they were appalled by Richardson's deceptions with the women, most of all his explanation that his health problems were caused by a heart condition. He claimed he was being truthful by saying he had a "HAART" condition, or Highly Active Anti-Retroviral Therapy - his name for his HIV-treatment drug regimen.
The case apparently is the first time an HIV-exposure charge had been taken to trial in Kansas.
Victims say they believe there may be other women who had unprotected sex with Richardson but who haven't come forward.
Richardson had two complaints brought against him while he lived in Lake Charles, La., where he went to college. Sgt. Mark Kraus, a spokesman for the Lake Charles Police Department said that in 2001, a woman filed a report to his department alleging that Richardson had exposed her to the virus, but that it turned out to have happened in a different jurisdiction. He didn't have information on how that case ended.
Around the same time, another woman came forward and filed a report to Lake Charles Police, he said. It was eventually submitted to prosecutors, but the case stalled after the District Attorney's office there said the victim was uncooperative, Kraus said.
Richardson went into the trial with no significant criminal history, but he received prison time because he now has the highest criminal history score possible under Kansas sentencing guidelines: three or more felony "person crimes."
Copyright 2018 The Lawrence Journal-World. All rights reserved. This material may not be published, broadcast, rewritten or redistributed. We strive to uphold our values for every story published.