-->
Jane Patrick and her husband, Steve Bradt, will play host to and share a turkey dinner with family from Iowa this week.
Of course, the hosts are not alone.
This Thanksgiving holiday, more than 38 million Americans are expected to drive or fly more than 50 miles from home, according to AAA estimates, and nearly 70 percent of travelers will stay with family members.
"Today, families are more spread out, and it's the family holiday," Patrick said of Thanksgiving.
She is also the bookkeeper at WheatFields Bakery, 904 Vt. Today is traditionally the bakery's busiest day of the year for bread sales.
"You can tell they've already showed up, and you can tell this weekend that lots of people are in town for the whole week," Patrick said.
Thanksgiving is considered the second busiest travel holiday behind the Fourth of July, said Jim Hanni, executive vice president for AAA Kansas. Compared with last year nationwide, 1 million more travelers are expected to leave home.
Highways will be packed this week, as 83 percent of travelers will use motor vehicles, and AAA also expects 4.8 million people to fly, compared with 4.6 million last year.
The Kansas City Aviation Department estimates that 180,000 people will leave from or arrive at Kansas City International Airport today through Sunday.
Hanni said that AAA's estimates predict robust travel even with higher prices for hotel rooms, rental cars and airfares.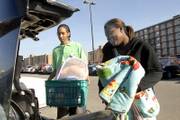 The average Kansas gasoline price is now $2.19 per gallon, which is 7 cents higher than 2005, but Hanni said because the prices are much lower than the near $3 per gallon in the summer months, many families consider now a good time for a trip.
The busy travel season can be stressful for those driving hundreds of highway miles or making a trip to the airport.
Being prepared for the trip is the key, transportation, public safety and air travel officials said.
"There's going to be extra people out on the road, so as always, the most important thing is to pay attention," said Joe Blubaugh, spokesman for the Kansas Department of Transportation.
Hanni said drivers on longer trips should plan their refueling and rest stops to keep from getting drowsy.
With the extra cars on the roads, Kansas Highway Patrol and Lawrence Police Department officials have said they would send out special patrols through Sunday to help enforce laws on seat belts, child-passenger seats and drunken driving.
During the 2005 Thanksgiving weekend, there were 785 accidents in Kansas, which resulted in 234 injuries and three deaths, according to state records. Forty-nine accidents had an alcohol-related cause.
Lawrence Police advise several precautions for families who leave town for a few days, including having a neighbor watch the house and pick up newspapers and mail, and using timers on interior lights to make it look like someone is home.
Copyright 2018 The Lawrence Journal-World. All rights reserved. This material may not be published, broadcast, rewritten or redistributed. We strive to uphold our values for every story published.