When Kenneth Click and his family moved to the Lawrence area four years ago, they liked what they saw.
Good schools. A job for his wife just down the road in Topeka.
But if Click would have looked at the recreational sports facilities here, things might be different.
"If I would have done that, we may have moved east of here," Click said at a community forum Monday.
Click and almost two dozen others told the leaders of a Lawrence organization that Lawrence sports and recreation facilities kids need are either falling apart or don't exist at all, and they support improvements and additions almost without question.
Partners for Lawrence Athletics and Youth, or PLAY, organized the forum Monday night at the Lawrence Arts Center as part of the group's research on gauging interest in adding multiuse sports facilities in the area.
Lawrence-based Treanor Architects is conducting a study on the issue financed by the city, county, Lawrence school district and Lawrence Chamber of Commerce.
From the beginning, stakeholders involved with the group said the message has been both apparent and nearly unanimous: Many Lawrence kids have few places to play and practice sports in town.
Photo Gallery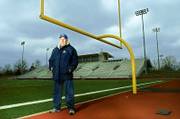 Hummer Sports Complex
And the ones they do have are drastically overused, leaving city and school staff fighting a losing battle to maintain them.
"We need additional facilities," said Fred DeVictor, director of the Lawrence Parks and Recreation Department, after hearing comments Monday night. "That's loud and clear."
Parents, coaches and others took the podium inside the arts center Monday and told study conductors and PLAY stakeholders about kids traveling hours for games, practicing sports only once a week and nearly calling games off because field conditions were so poor.
"We've gone so many other places," said 9-year-old Hamza Al-Mulki, a soccer player. "We only practice one day a week, for an hour and a half."
The only real question so far in the study process has hinged on funding: How do you pay for what likely would be a multimillion-dollar sports complex when the city has so many other needs?
Douglas County resident Bill Reynolds said that he, too, wants kids to have a place to play and practice their sports.
"But I don't want anybody to forget: You have to fund it," Reynolds said.
Andrew Pitts, principal architect for Treanor Architects, said funding options for such a project hadn't been discussed yet, but the study should be complete sometime early next year.
Clark said he and many other parents wanted to see action, and soon.
"I'll support it. Bond issue, sales tax, anything," Clark said. "We need to get started soon, guys."
Copyright 2018 The Lawrence Journal-World. All rights reserved. This material may not be published, broadcast, rewritten or redistributed. We strive to uphold our values for every story published.