Forget the library. Or tutors. Or study buddies.
When it comes to homework, this current generation of students has one go-to source: the Internet.
"It's widely used by every student in high school and junior high as well," says Lawrence High School junior Malory Hughes-Pfeifer.
"It's quicker for us to get information than going to books. It's easy for us to type in what we want and have it pop up."
Hughes-Pfeifer says she often relies on sites such as Wikipedia, Google and Yahoo.
"In my English class I'm doing a project on Sojourner Truth. I've used the Internet as a quicker, easier way to get speeches and things like that," she says.
An estimated 94 percent of students who have online access browse the Internet for help with homework.
"I use encyclopedia.com and Wikipedia for terms because it's easier than looking in the index of a book. Some teachers still require book sources. But most teachers don't care," says Kelsey Pike, an LHS senior.
Pike mentions she was just studying for a humanities test the previous night and made notecards from those sites about impressionists and postimpressionists. The ease with which she found the information was one of the reasons she utilized the Net.
"I haven't been in the school library this year," she adds.
But there are also sites that go beyond traditional reference abilities. Some are purely dedicated to assisting students with homework. For instance, Pupils Ask Teachers Help (www.Pathwhelp.org)provides students access to live teachers after school hours.
"We've made people aware of it in district newsletter-type things. But the logistics of it, I don't know," says Robert Shandy, an LHS counselor.
"I'm old-fashioned when it comes to the teacher/student right there together. If I'm trying to work a math problem and I don't get it, but I get online and they show me how to do it, I now have the answer, but I'm not sure the process of how I got it."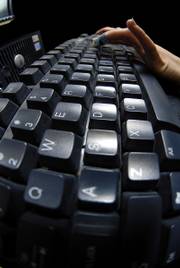 At Free State High School, counselor Joel Frederick says his interaction with students and the Internet mainly involves preparation for the next level of schooling.
"I (use the Internet) in terms of kids looking up stuff for college - SAT and ACT-kind of things," Frederick says. "Of course, act.org has all the information on the ACT. More importantly, it has practice questions for them to use. Then collegboard.com is where you find all the SAT stuff."
Whether it's kindergartners learning facts about dinosaurs or seniors needing to keep their GPAs up to get into Harvard, the Internet seems to be indispensable. Here are some of the most popular and accommodating homework-helping sites:
Study Buddy
Thousands of articles on hundreds of topics are available, and all the links have been "homework approved" by a team of educators. Math, language, art and music, science, social studies and health are cataloged in levels K-12.
Pupils Ask Teachers Help
Although it's not exactly "open" 24 hours, this site features live chats with actual teachers on most days from 3 p.m. to 10 p.m. And students won't have to endure any glares of disapproval.
BJ Pinchbeck's Homework Helper
school.discoveryeducation.com/homeworkhelp/bjpinchbeck/bjscience.html/
You might have seen him on "Good Morning America" or "Oprah," but BJ Pinchbeck was just 7 years old when he started this site 10 years ago. Pinchbeck - who will personally answer e-mails to his site - provides info like science fair ideas and clip art galleries to help students in this Discovery-affiliated site.
Homework Hub
www.scholastic.com/kids/homework
A studious robot guides readers through five focal points: Research, Organize, Write, Prepare, Practice. It also provides some bells and whistles such as a flashcard maker to aid in memorization.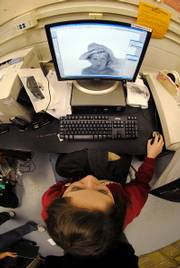 Ask.com
The ancient Greeks had the Oracle at Delphi to answer their questions. Americans have ask.com. Need more info about the Oracle at Delphi? Go to ask.com.
Wikipedia
The days of the door-to-door encyclopedia salesmen are long gone, and people can thank sites like Wikipedia. Featuring literally millions of entries, this free reference guide features the benefit/curse that "anyone can edit" the entries. In other words, don't believe everything you read.
Ref Desk
Need more info? Ref Desk provides dozens of great links to specific homework helpers. It's a fine example of how there is a site dedicated to just about everything on the Internet.
Copyright 2017 The Lawrence Journal-World. All rights reserved. This material may not be published, broadcast, rewritten or redistributed. We strive to uphold our values for every story published.