Some of the images were spattered with flecks of "blood." Some showed images of happy families ripped and shredded over a backdrop of a war-torn Iraqi landscape.
Others displayed youthful faces that were aged before their time.
A recent study of the 1929 novel "All Quiet on the Western Front" by Erich Maria Remarque helped Free State High School students see how the horrors of combat in World War I have similarities to the war of their own generation.
"The book makes it all more real. We've just become more detached," said Matthew Farrier, a senior who is nearly the same age as the lead character in the novel of the war of 1914-18.
The book provides graphic details of the trench warfare experienced by Paul Baumer, a 19-year-old schoolboy who enlists in the German army.
Farrier and other members of Phyllis Copt's 20th century literature course created text and photo collages based on what they had read.
"They were to take the passages from the book that meant something to them," Copt said. "They put the text over the images they found."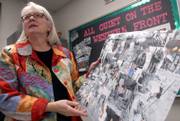 Farrier used blurred photos of shelled buildings in his montage. The images seemed as if they could be of the war in Iraq.
"Now, if you don't have a family member fighting in the war, you couldn't tell there's a war going on," he said.
Holly Maygers, a 17-year-old senior, learned during the summer what a family experiences when a father must go to war.
Maygers had volunteered at a summer camp in Colorado where she had met a family whose father was stationed at Fort Riley.
"They had five kids, and their dad had just been in Iraq and he was going to be leaving again," she said.
Her collage describes the phrase "War is a Nightmare" and shows different scenes she had found on the Internet of the war in Iraq.
She took a happy photo of the family, tore it into pieces and scattered it over the war scenes.
"It showed how their family was just completely torn apart by the war, and how they were not a unit for an entire year, " Maygers said.
The novel helped her see that war brings suffering to those who are in it.
"It's changed in terms of technology and tactics," she said. "But as far as the family part goes, I think it is still completely devastating to most families."
Lindsay Simms, a 17-year-old senior, said she tried to show in her collage how the soldiers are similar to each other, even if they are fighting on opposite sides.
Simms used the text from "All Quiet," "If we threw away these rifles and this uniform, you could be my brother, like Kat and Albert."
She said the same theme applies to soldiers in the Iraq war.
"People in Iraq have family and friends that they are hoping to come back to," Simms said. "They want to come back and live the rest of their lives. But in the end, someone might have to die."
She said it was good to know that many Americans are willing to fight for their country.
"Hopefully, they'll all come back to their family and friends," she said.
Then and Now
Today's teens have come a long way from 1917 when the U.S. entered World War I.
¢ Education
1917 - Many Kansans didn't attend high school, often going only as far as eighth grade, according to Paul Stuewe, a Lawrence history teacher.
2006 - The Kansas high school graduation rate is 86 percent, with 25.8 percent finishing a bachelor's degree or higher.
¢ Patriotic songs
1917 - "Over There" by George M. Cohan.
2006 - "Our Country" by John Mellencamp.
¢ The draft
1917 - The Selective Service Act was passed May 18, authorizing the president to draft men into the military.
2006 - There is no draft.
¢ Film
1917 - Theda Bara was wearing heavy eye shadow in "Cleopatra," the big-budget Hollywood silent film.
2006 - Johnny Depp was wearing heavy eye shadow in "Pirates of the Caribbean: Dead Man's Chest," a big-budget Hollywood film.
¢ Health
1917 - The world was about to get hit with the Spanish Flu pandemic, which in 1918 killed 50 million to 100 million people.
2006 - There is concern the "avian flu" or "bird flu" from the H5N1 influenza A virus could mutate into a form that will cause another worldwide pandemic.
¢ KU football
1917 - Kansas University beat cross-state rival Kansas State, 9-0.
2006 - KU beat K-State last Saturday, 39-20.
Copyright 2018 The Lawrence Journal-World. All rights reserved. This material may not be published, broadcast, rewritten or redistributed. We strive to uphold our values for every story published.