Lawrence, say "so long" to your chance to see state championship high school football.
That's not a commentary on the prospects of the Free State or Lawrence High football teams. Instead, it is about the ability of Kansas University's Memorial Stadium to play host to the big state championship game, which historically has been a boost to hotels, restaurants and other merchants.
"We feel like a little ant in a big old bowl," Rick Bowden, assistant executive director of the Kansas State High School Activities Assn., said of Memorial Stadium. "The atmosphere is just so much more conducive if you put 7,000 people in a stadium that is built for that instead of in a 50,000-seat stadium."
Saturday's state championship contests will mark the third consecutive year that Lawrence has not been host to a championship game. That's the longest stretch the city has gone without one since the state started assigning sites in 1983.
Lawrence doesn't have to look far to see where the business has gone. Topeka last season was host to two state championship games in its 4-year-old Hummer Sports Park. It'll have another one this year.
The complex boasts a 6,000-seat football stadium and a 2,000-seat soccer field that both have the same type of artificial turf as Memorial Stadium. It also has two fully irrigated baseball fields, two softball fields, an eight-lane track designed for college meets and a 50-meter indoor swimming pool that has been used as part of an Olympic qualifying meet.
But it all came at a cost: Topeka school district voters in 2001 approved $17.5 million in bonds to build the complex. They spend about another $800,000 a year to maintain and operate the park.
Now, Lawrence residents are being asked whether they would like to get into the same game. Partners for Lawrence Athletics and Youth - or PLAY - will put on a public meeting at 7 p.m. today at the Lawrence Arts Center, 940 N.H., to receive comments on what recreational facilities Lawrence needs and whether residents should invest in a multimillion-dollar sports complex.
"I'm hoping the community really takes a look at its needs and then takes that next step and does something about it," said Bonnie Lowe, a Lawrence bank president and former mayor. "In my opinion, the reason we're in the dire straits we are is because we've had a lot of discussion but no action."
'Heads in beds'
The Hummer Sports Park is named after a former Topeka police chief, not the Rolls-Royce of sport utility vehicles. But Topeka leaders did build the complex to be a Cadillac version of a sports park.
"In my opinion, the school district did it right," said Dave Graversen, assistant manager of the Topeka sports park. "They didn't go cheap. They created what I think is one of the premier parks in the Midwest."
Photo Gallery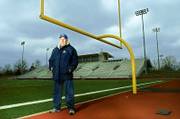 Hummer Sports Complex
The idea from the very beginning, Graversen said, was to create a park that could accommodate more than just the normal events generated by the district's three high schools. Thus far it has been doing just that, Graversen said.
The park has been the site of the 2005 National Baseball Congress World Series, high school championships for boys and girls soccer, AAU track meets and games for the 2004 U.S. Olympic softball team. Even the University of North Carolina women's soccer team agreed to use the field for a pair of games.
"We can stay busy seven days a week during a lot of times of the year," Graversen said. "I don't think a lot of people realize how many people these events can bring to town. It definitely puts heads in beds."
On the road again
That type of economic development potential excites Lowe, but it is not what spurred her to form PLAY nearly 14 months ago.
Instead, it was the impending closure of Sport 2 Sport, a privately owned facility that provided gym space for youth volleyball, basketball and other sports. When that facility - just west of Clinton Parkway and Wakarusa Drive - did close, she was fearful of what it would mean for her two daughters who participate in club volleyball.
"We have four practices per week in Topeka for our two," Lowe said of her two daughters, ages 13 and 16. "It is about two hours per practice, so I spend a lot of time in Topeka."
But Lowe said that's the price parents pay if they want their children to play club sports. Many Lawrence Parks and Recreation programs are full because they don't have room to add teams to a league or to start new leagues that would provide higher competition levels, she said.
She's confident that Lawrence would have enough youths to fill new leagues. She said on one of her daughter's volleyball teams, six of the eight team members are from Lawrence.
Fred DeVictor, director of the city's Parks and Recreation Department, confirmed that his department doesn't meet all the demands of youth league sports. He said the department is particularly strained in its ability to accommodate indoor sports.
"We have long been on record that one of our needs is indoor space," DeVictor said. "We would love to have a fieldhouse that could have three or four gyms in it."
Outdoor space, though, also is on the list of needs. DeVictor said it is a struggle for many baseball, softball and soccer coaches to find space for their teams to practice even once per week.
The football field conditions for Lawrence's two high schools, which play most of their games at Haskell Stadium, also have been concerning Kansas State Athletics Assn.
"There are definite concerns about the field surface at Haskell," Bowden said. "I've had administrators from Lawrence apologize that the field isn't in any better shape than it is."
Picking priorities
The PLAY idea largely will rest in the hands of elected leaders. The city, county, Lawrence school district and Lawrence Chamber of Commerce all agreed to fund a $63,000 feasibility study.
The study, being conducted by Lawrence-based Treanor Architects, is expected to be done in 60 to 90 days, Lowe said. In addition to providing cost estimates, it will include a random survey of Lawrence households to gauge support for a project.
But details of the project still are undetermined. Any Lawrence sports complex almost certainly would be different than Topeka's. Lawrence, for instance, has a relatively new indoor aquatic center. The Topeka park also doesn't offer indoor gym space.
Details such as whether voters would need to approve a bond issue or whether a recreation park could be a part of some sort of sales tax proposal also are unknown.
But one piece of advice from Topeka is clear: It will take money.
"A facility like this is not going to be self-supporting," Graversen said. "It is really a quality-of-life project."
The biggest unknown for the PLAY idea, though, is how it will stack up against the long list of other projects that the city is contemplating.
"We have to start prioritizing some of these projects," Mayor Mike Amyx said. "There are lots of needs out there; lots of wants, too. At some point we're going to have to say some of these good ideas are going to have to wait in line."
Amyx rattled off a list that included a proposal for a new downtown library, additional street maintenance, North Lawrence storm drainage, the need for new industrial parks and an $80 million sewer treatment plant the city has agreed to build.
"Taxpayers can only afford so much," Amyx said.
Copyright 2018 The Lawrence Journal-World. All rights reserved. This material may not be published, broadcast, rewritten or redistributed. We strive to uphold our values for every story published.