Kansas City, Mo. — It took him nearly all of Sunday's game, but Trent Green was in midseason form when it mattered most in the Kansas City Chiefs' 17-13 victory against the Oakland Raiders.
Green, playing for the first time since sustaining a severe concussion in the season opener Sept. 10, attempted just 11 passes, completing six, in the first 55 minutes. Aside from a promising 11-play touchdown drive to open the game, the Chiefs' offense struggled for the second week in a row and trailed, 13-10, with 4:53 to play.
The Chiefs took over on their own 20, and the drive quickly sputtered. Facing a fourth-and-one from his own 29, Kansas City coach Herm Edwards chose to go for the first down.
He said it was a do-or-die play.
"We talked about it, and everybody was kind of saying, 'What should we do?'" Edwards said. "I said, 'Let's go for it. Here's the game. We'll see what we are.'"
Larry Johnson took the handoff and was hit in the backfield, but stayed on his feet and fell forward for a two-yard gain. A 15-yard facemask penalty on Oakland's Terdell Sands, a former Chief, was gravy for Kansas City.
"We had no choice," Johnson said. "We had to get a win."
Green completed three of his next four passes, including a 16-yard strike to Samie Parker on third and nine deep in Oakland territory, and set up Johnson's second touchdown of the day - a one-yard plunge behind right guard Will Shields. Johnson racked up 154 yards on 31 carries on his 27th birthday.
The Raiders, after taking over with 1:32 left, marched downfield and had first-and-goal from the Chiefs' eight-yard line, but rookie safety Jarrad Page intercepted quarterback Aaron Brooks' attempt to find Randy Moss in the back of the end zone. Only two passes were thrown Moss' way during the game.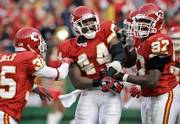 "We ran a Red Two coverage, and they were trying to suck me in," said Page, an Oakland, Calif., native starting in place of injured Greg Wesley.
The pick helped the Chiefs narrowly preserve a second-half shutout. Oakland quarterback Aaron Brooks' scrambling ability frustrated defenders. Brooks completed 13 of 22 passes and was not sacked.
"We couldn't bring the guy down," K.C. cornerback Patrick Surtain said. "We had some missed sacks."
Green, who said he was not nervous about taking his first hit in over two months, was sacked twice and took a hard hit on a short run.
"I felt really good," said Green, who said he spoke to his former coach, Dick Vermeil, for encouragement the night before the game. "It was hard because, in the first half, we never really got much into a rhythm because we didn't have many plays."
Green attempted just four passes in the first half, connecting on two.
¢ Brooks injury: Oakland backup quarterback Andrew Walter enigmatically took the first four snaps of Oakland's last-gasp drive because Brooks' hands cramped while warming up.
"My thumb got locked. It wouldn't release," Brooks said. "I tried every method known to man to keep that from cramping, and then my middle finger got a cramp."
¢ On tap: The Chiefs will play host to the Denver Broncos at 7:30 Thursday night. The game will be shown on NFL Network and locally on channel 4.
"I think we looked forward too much (Sunday) because we made a lot of mistakes on offense and defense," Johnson said. "I think that definitely is the game we've been waiting for."
Injured starters Tony Gonzalez and Brian Waters may play in Thursday's game, Edwards said.
Copyright 2018 The Lawrence Journal-World. All rights reserved. This material may not be published, broadcast, rewritten or redistributed. We strive to uphold our values for every story published.