Philadelphia — Donovan McNabb's season is over early - again.
The Philadelphia Eagles lost their star quarterback for the rest of the year because of a torn knee ligament in a 31-13 loss to the Tennessee Titans Sunday.
McNabb will have surgery to repair the anterior cruciate ligament in his right knee and is expected to be sidelined from eight months to one year. It's the third time in five years McNabb has gone down with six or more games remaining in the regular season.
"It's an unfortunate thing," said Jeff Garcia, who replaced McNabb. "Donovan is a competitor, a leader, and he was having a great season. He'll be missed."
McNabb was injured on the second play of the second quarter on a seemingly harmless play. He was rolling to his right near the Tennessee sideline and was bumped out of bounds by Kyle Vanden Bosch after throwing an incomplete pass. He grabbed his right knee and was immediately tended to by trainers before being carted off the field.
"If he was running to the sideline trying to get out of bounds, I don't take that shot, but he reared up and tried to throw it, and I was trying to get a hand in his face," Vanden Bosch said. "I never play with the intent to get anybody hurt. It's a freak deal."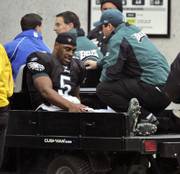 Without McNabb, the Eagles were no match for the lowly Titans.
Travis Henry had a 70-yard touchdown run, Adam "Pacman" Jones returned a punt 90 yards for a score, and Vince Young was efficient.
Garcia was 26-for-48 for 189 yards and one TD filling in for McNabb, who threw an interception in the end zone in the first quarter.
Eagles coach Andy Reid wouldn't say whether Garcia or third-stringer A.J. Feeley would start at Indianapolis next week.
"We didn't take advantage of opportunities, even with Donovan in there," Reid said.
Young, the No. 3 overall pick in this year's draft, did more damage with his legs than his arm while helping the Titans (3-7) to their third win in his seven starts. The rookie ran for 49 yards and threw for 101 more and one TD. He completed just eight of 22 passes.
Henry ran for 143 yards on 18 carries, and Tennessee finished with 209 yards on the ground.
"Just managing the game, that's basically it," Young said.
Young missed the team flight to Philadelphia on Saturday night and had to pay for his own flight. He said he got stuck in traffic behind a funeral procession.
"There will be no extraordinary disciplinary action taken," Titans coach Jeff Fisher said. "There will be a little fine, and we'll move on."
Patriots 35, Packers 0
Green Bay, Wis. - New England forced Brett Favre out of the game, then snapped its first losing streak in nearly four years.
New England had a 21-0 lead with under two minutes left in the first half when linebacker Tully Banta-Cain wrapped up Favre in the backfield, and Tedy Bruschi jumped in to finish the sack. Bruschi's hit slammed Favre to the ground on his throwing arm, and the three-time MVP got up wincing.
Favre, who made his 251st consecutive start including playoff games, was replaced by second-year player Aaron Rodgers. Favre walked back out of the locker room shortly after halftime, but Rodgers played the remainder of the game.
Favre struggled with his accuracy before the injury, going 5-for-15 for 73 yards.
Bengals 31, Saints 16
New Orleans - The Carson Palmer-to-Chad Johnson connection was clicking again, for touchdowns of 41, 60 and four yards as the Bengals snapped a three-game losing streak.
The pair combined for 260 yards and two touchdowns in last week's 49-41 loss to San Diego.
This week, they got some help from the defense, which thwarted four Saints drives with three interceptions and a fumble recovery.
Palmer was 14-of-22 for 275 yards, including Johnson's six catches for 190 yards. Rudi Johnson ran for 111 yards for the Bengals (5-5).
Drew Brees threw for 510 yards for the Saints (6-4), but was picked off three times, once for a 52-yard TD.
Steelers 24, Browns 20
Cleveland - Ben Roethlisberger shoveled a four-yard touchdown pass to Willie Parker with 32 seconds left, rallying the Steelers over the Browns, who were minutes away from kicking the defending Super Bowl champions into the AFC North basement.
Roethlisberger, intercepted three times in the first half, threw for 272 yards - 224 in the fourth quarter - as the Steelers (4-6) avoided a defeat that would have made it almost impossible to get into the playoffs.
Panthers 15, Rams 0
Charlotte, N.C. - The Panthers sacked Marc Bulger seven times in shutting out St. Louis, the fifth straight loss for the Rams (4-6). Jake Delhomme threw a 62-yard touchdown pass to Steve Smith, and that was all the offense the Panthers would need.
It was the first time the Rams, devastated by the loss of Pro Bowl tackle Orlando Pace in last week's game, scored zero points since 1998.
Mike Rucker had two sacks, including one for a safety, while former Ram Damione Lewis and Chris Draft each had 11â2 sacks for Carolina, which tied a team record for sacks in a game.
Ravens 24, Falcons 10
Baltimore - B.J. Sams proved to be more elusive than Michael Vick - and far more productive.
Sams returned six kicks for 212 yards, Jamal Lewis scored three touchdowns and the Ravens wore down the Falcons in the second half.
It was the fourth straight victory for the Ravens (8-2), who failed to score before halftime against a short-handed Atlanta defense, but rallied behind Sams, whose long runbacks set up two third-quarter touchdowns.
It was the third straight loss for the Falcons (5-5).
Bears 10, Jets 0
East Rutherford, N.J. - Mark Bradley turned a short completion into a 57-yard touchdown 10 seconds into the final quarter, and the Bears never looked back.
Chicago (9-1) notched its second shutout this season - the Bears blanked the Packers at Green Bay on Sept. 10. The Bears, coming off a 38-20 victory over the New York Giants, also became the first road team since the 1999 Washington Redskins to win two straight games at the Meadowlands.
Dolphins 24, Vikings 20
Miami - The only time the Miami Dolphins were able to run with the ball was when their defense snatched it away.
Renaldo Hill and Jason Taylor returned turnovers for touchdowns in the fourth quarter, and Miami overcame another sputtering offensive performance.
Minnesota, ranked first in the NFL in run defense, lost despite setting a team record by limiting the Dolphins to minus-three yards rushing in 14 carries. Running back Ronnie Brown netted two yards in 12 attempts.
Bills 24, Texans 21
Houston - J. P. Losman was unstoppable early and late. The Bills quarterback hit a diving Peerless Price in the back of the end zone for the winning touchdown with 13 seconds left.
The 15-yard touchdown was reviewed, but upheld by officials as Price dragged both feet inbounds.
Lee Evans caught six passes for 205 yards and two TDs in the first quarter. Evans' performance was a Buffalo record for a period and just shy of the NFL record for yards receiving in a quarter of 210.
Buccaneers 20, Redskins 17
Tampa, Fla. - Jason Campbell looked poised and confident in his debut. Unfortunately for the Redskins, the second-year quarterback no longer had Carnell "Cadillac" Williams behind him to make his job easier.
Williams stole the spotlight from his former Auburn teammate, rushing for 122 yards as Tampa Bay (3-7) ended a three-game losing streak.
Rookie Bruce Gradkowski, making his seventh start, threw touchdown passes of two yards to Anthony Becht and 34 yards to Joey Galloway, the latter snapping a 10-10 tie midway through the fourth quarter.
The Buccaneers led by 10 points with less than four minutes remaining, but Campbell and the Redskins (3-7) drove 80 yards for a touchdown.
Tampa Bay ran out the clock after Michael Clayton recovered the ensuing onside kick with 32 seconds left.
Cowboys 21, Colts 14
Irving, Texas - The Indianapolis Colts are perfect no more.
Tony Romo managed an efficient game in his first career start at home, Marion Barber III ran for two fourth-quarter touchdowns, and the Cowboys handed Peyton Manning and the Colts their first loss of the season.
A week after becoming the first team to start 9-0 in consecutive seasons, Indianapolis fell shy in its bid to match last year's 13-0 run, much less the perfect season by the 1972 Miami Dolphins.
49ers 20, Seahawks 14
San Francisco - Frank Gore rushed for a franchise-record 212 yards, and San Francisco's maligned defense stopped the Seahawks three times in the final 41â2 minutes of the 49ers' third straight victory.
Alex Smith passed for 163 yards, threw a TD pass and rushed for another score for the 49ers (5-5), who went scoreless in the second half. But they still hung on to snap a six-game losing streak against their NFC West rivals, the defending conference champs.
Cardinals 17, Lions 10
Glendale, Ariz. - Matt Leinart finally is a winner in the NFL. The Arizona rookie threw for 233 yards and a touchdown and ran nine yards for a score to help the Cardinals snap an eight-game losing streak.
In his first victory in six NFL starts, Leinart completed 19 of 29 passes with no interceptions. In the second and third quarters, Leinart was 14-of-15 for 202 yards.
Edgerrin James gained 96 yards in 22 carries, his best day since coming to the Cardinals (2-8) this season.
The Lions (2-8), who lost running back Kevin Jones to an ankle injury late in the first quarter.
Chargers 35, Broncos 27
Denver - LaDainian Tomlinson scored four times and reached 100 touchdowns faster than any player in NFL history Sunday night.
Tomlinson, who has scored an NFL-record 19 touchdowns in his last six games, reached 100 TDs in his 89th game, four fewer than it took Hall of Famer Jim Brown and Emmitt Smith. He now has 102 TDs and also topped 1,000 yards rushing for the sixth straight season.
It was his first victory in six trips to Invesco Field and vaulted the Chargers, who rallied from a 24-7 deficit, into first place in the AFC West at 8-2, a game ahead of Denver.
After Tomlinson scored his first three TDs, Phillip Rivers found Vincent Jackson in the back of the end zone to give San Diego a 28-27 lead with 6:45 left.
Copyright 2018 The Associated Press. All rights reserved. This material may not be published, broadcast, rewritten or redistributed. We strive to uphold our values for every story published.